World premiere opens Friday, November 12, 2021
In the summer of the American Bicentennial, two sons try to escape the rage and pain that their father is trapped in, fueled by the racism he's experienced throughout his life.
*performance contains a moment of violence and gunfire.
*Mask and proof of vaccination or negative COVID test required for all audience members.
Developed through the Reiser Atlanta Artists Lab at the Alliance Theatre, Atlanta, GA.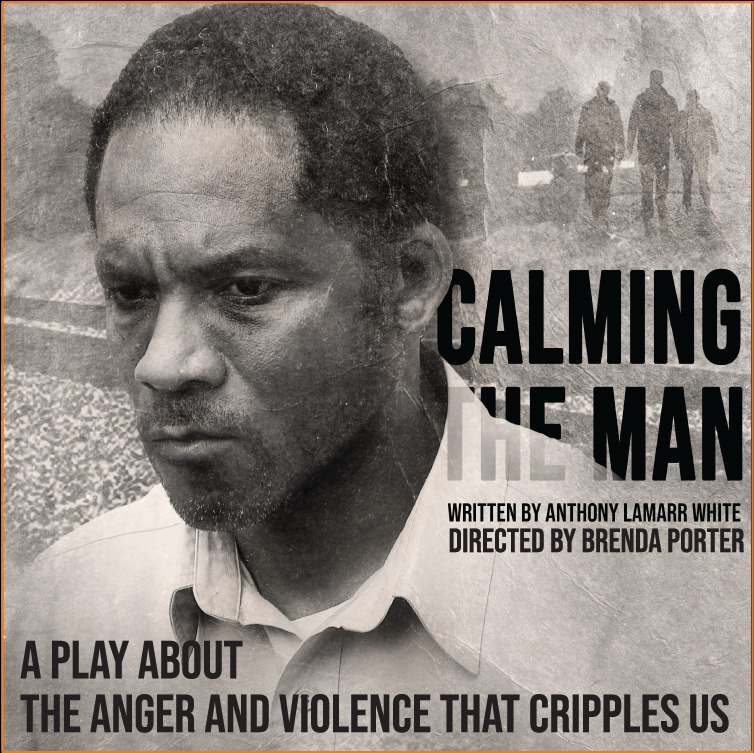 ---
Performance Schedule
Wednesday November 10 (8pm) Preview performance
Friday November 12 (8pm) Opening Night
Saturday November 13 (8pm) Neighborhood Night, with post-show talkback with playwright and cast
Sunday November 14 (7pm)
Monday November 15 (8pm) Industry Night
Saturday November 20 (8pm)
Sunday November 21 (2pm)
In The Press
Check out our interview on City Lights with Lois Reitzes!
"Anger, goes the bumper sticker, is one letter short of danger. And Calming the Man is a play about anger — how it animates, how it deadens, how it cripples forever. Thus, this new work from Anthony Lamarr never, not for a second, feels safe; explosions always seem imminent, the air is thick with unspoken threats.
Daddyo has lived his entire life bleeding on the inside, cut deep by racism and unrequited love. His dreams crushed, his adult sons are his life now. Michael is his reason for living … while he blames Tracey for inflicting his deepest wound."
-Kennedy Center's Page to Stage
What audiences are saying…
"The show touched me so much. I reminded me of my childhood."
"I was blown away! The cast was amazing. The play's direction was inspired. And the technical crew did a fabulous job of bringing [the playwright's] vision to life."
---
Cast:
Daddyo: Sundiata Rush
Killpretty: John Doyle
Tracey: Anthony Nash
Michael: Kourage Cooper

Artistic Team:
Playwright: Anthony Lamarr White
Director: Brenda Porter
Dramaturg: Jayla Myers
Stage Manager: Kayla Brooke
Fight Choreographer: Mia Kristin Smith
Scenic Designer: Gabrielle S. Stephenson
Lighting Designer: Harley Gould
Sound Designer: Kimberly Harding
Costume Designer: Ladisa Banks
Propsmaster: Courtney Loner
Original Music Arrangement: Tasha Smith
Master Carpenter: Rachel Graf Evans
Scenic Artist: Gabrielle S. Stephenson
---
Meet the Playwright: Anthony Lamarr White
Anthony Lamarr White is co-winner of the 2021 Essential Theatre Playwriting Award, along with Erin Considine. A playwright, novelist, and screenwriter from Crawford, GA, at age nine, a typewriter he received for Christmas and his passion for Bruce Lee films led him to write his first short screenplay, Two Against the Mob. Since then, his work has included novels, screenplays, and two full-length plays, Calming the Man and The Long Goodbye. He's also a Florida Press Association Award-winning columnist for the Perry News Herald and a former journalist for the Gainesville Sun and the Marietta Daily Journal. His television background includes writing and producing the nationally syndicated TV talk show, Your World with Creflo (Dollar).
Read our interview with Anthony.
And here's another great read from the Tallahassee Democrat from February's FAMU reading.