About the show:
Lenora is on a mission, but her not-so-inner child is bursting with irreverent questions about DNA, ADD, quantum physics, boners, and babies — where they come from, how they get here, and mostly, how she can get one. With hilarious and maddening advice from her sex-ed teacher, Elvis, Mr. Rogers, the mysterious Dr. Mark, and a bunch of ill-mannered "dolls," Lenora and her Honey board a train for a wild adventure that leads to some unexpected destinations. High Risk, Baby! is a 70-minute heart-expanding autobiofictional story about one woman's wild and epic journey into motherhood.
*Mask and proof of vaccination or negative COVID test required for all audience members.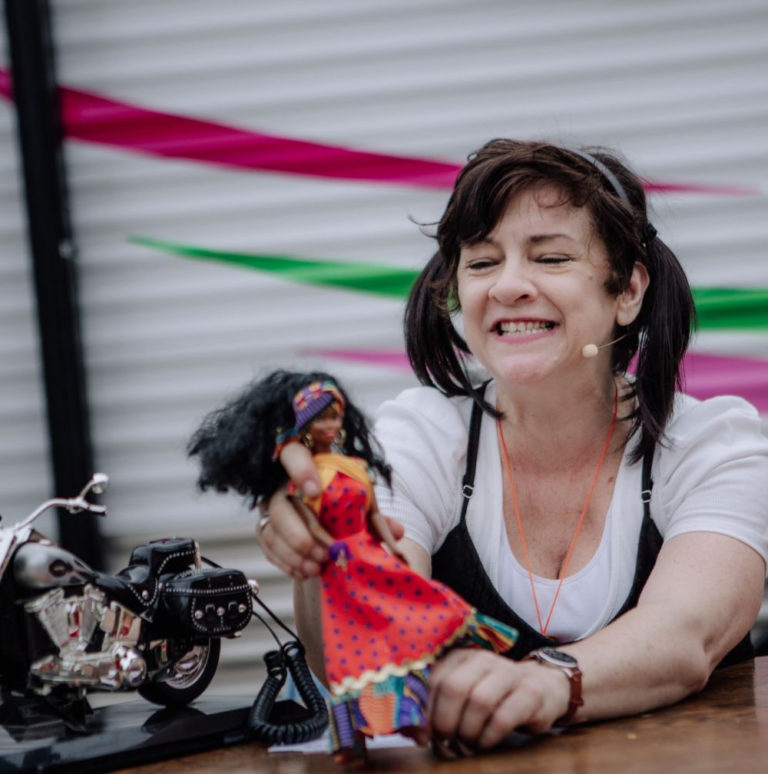 Cast:
Shelby Hofer: Writer/Performer
Rachel Wansker: Puppeteer, Puppet Assist
Claire Christie: OffStage Voice, Stage Manager

Artistic Team:
Ellen McQueen: Director/Collaborator
Dan Bauman: Sound Designer
Nadia Morgan Reichman: Set Designer
Chris Tsambis: Filmmaker (Prologue), "Son Song" Collaboration
DJ Hofer: Musical Producer, "Son Song" (lyrics by Shelby Hofer)
Olliver "Ollie" Cook: Boy's Voice
Eric Goldstein: Poster & GRFX Design and Puzzler
Miriam Robinson: Poster Art
Rob Nixon: Prayer Flag Art




What audiences are saying…
I don't have enough superlatives to describe Shelby's performance. She is funny, engaging, highly professional, and full of energy. She keeps the audience on its toes, involving them in some of her spicy Q&As as she sorts through the whole fertility thing.

Garland Watkins
---
Performance Schedule
Wednesday November 17 (8pm) – performance + post-show conversation with Licensed Professional Counselor Shubha Swamy, LPC, CPCS
Thursday November 18 (8pm) – performance + post-show conversation with Dr. Lauren Berman, founder of the Fertility Psychology Center of Atlanta
Post-show conversations curated by Dr. Mark Perloe.
---
Meet the Playwright: Shelby Hofer
Shelby Hofer is an award-winning actress, writer and director, and the Co-director of Atlanta-based PushPush Arts (formerly PushPush Film & Theater) where she develops distinctive opportunities for artists to take risks, explore new ideas and collaborate. In addition to her noted stage and film work at PushPush, she has appeared on many stages locally, nationally and internationally. In Atlanta, her many stage performances include seven productions at Horizon Theater, including the critically acclaimed solo comedy, Bad Dates by Theresa Rebeck. Her work also includes film, commercials, multimedia, teaching, writing, directing and stand up comedy. Her 2009-2011 performances of the solo show 101 Humiliating Stories garnered numerous awards including one of the Top 50 Shows of the Decade and a Best Actress award from Creative Loafing Atlanta in 2010. Her newest performance is an original work called High Risk, Baby, a comedy about the child within the mother, and her personal voyage from infertility to motherhood, told from the perspective of both her 8-year old and adult self. For more info visit shelbyhofer.com