Curated by Essential's Founding Artistic Director, Peter Hardy, himself a national award-winning playwright who's had over 30 productions of his work done around the country and has received playwriting awards from the National Playwrights' Conference, the Festival of Southern Theatre and the New Southern Theatre Festival.
All Bare Essentials readings are free and open to the public. Be sure to stay after for exciting conversation with the director, cast and playwright!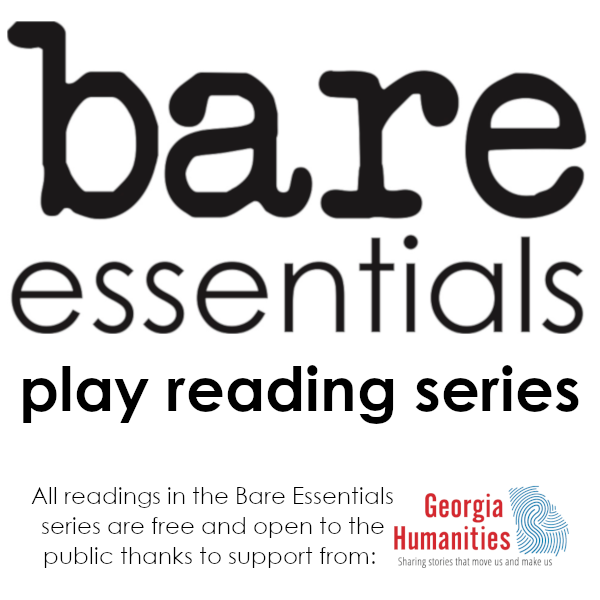 ---
UP NEXT:
Check back soon for the full 2022 Bare Essentials schedule!
2022 Bare Essentials Play Readings*
The Manuscript, by Matthew Hoffman (June 6)
2020 Bare Essentials Play Readings*
Sunrise from the Moon, by Hannah Manikowski (Aug 11)*
Cheek by Jowl by Emily McClain (Oct 1)*
Smoked by Thomas Brazzle (Nov 12)*
Dead Gay Body by Abraham Johnson (Nov 16)*
2019 Bare Essentials Play Readings
Concert Reading of Memory Lane, by Sharon Goldman and Marilyn Baron (Feb 23)
DAY OF SATURN by Leviticus Jelks III (Aug 3)*
HENRY DARGER TAKES A WALK by Rosalind Sullivan-Lovett (Aug 6)*
WAITING FOR BIG STUFF by Allan Dodson (Aug 12)*
THE ODDS AGAINST DEATH by Ted Westby and John D. Babcock III (Aug 21)*
THE OUTRAGE MACHINE by Daniel Carter Brown (Dec 9)
2018 Bare Essentials Play Readings
FAITH by Lee Osorio (Aug 7)
DAD by Ben Harris (Aug 7)
A POSTERIORI by Courtney Earl (Aug 14)
BABY SHOWER FOR THE ANTI-CHRIST by Ben Thorpe (Aug 22)
2017 Bare Essentials Play Readings
PANTS ON FIRE! by Jacobi Howard (Feb 13)
WHAT MY MOTHER TOLD ME by Anna Denise Millard (May 22)
FALLING OFF THE EDGE by Paul Donnelly (Aug 9)**
VALENTINO by Liz Dooley (Aug 14)**
RICK AND RICKY by Lee Raines (Aug 23)**
2016 Bare Essentials Play Readings
MISS SMALL TOWN USA by Gerry L. Bartholomäi (Jan 26)
PETE N' WENDY by Erin Considine (Aug 8)**
THE MEMORY BOX by Laura King (Aug 15)**
NEVER BEEN TO VIENNA by Gerry L. Bartholomäi (Aug 24)**
2015 Bare Essentials Play Readings
DELI by Diane Dexter (Aug 4)
THE WAYFARERS by Hillary Simpson Bolle (Aug 10)
WASH, DRY, FOLD by Nedra Pezold Roberts (Aug 18)
THE END OF WILLIAM HENRY by Caleb Zane Huett (Sept 30)
THE CISCO KID WAS MY MOTHER'S BOYFRIEND by Bill Gibson (Nov 30)
2014 Bare Essentials Play Reading Series
TROLLS by Robin L. Burke
PERFECT FAITH by Frankie Little Hardin
LIMBO NIGHT IN PURGATORY by Tyler Stuart
THE BEAST OF SKITTER CREEK by Brian Forrester
MISS ADELIA'S GARDEN by Gerry L. Bartholmai
CHRIST AMERICA by Bill Gibson
2013 Bare Essentials Play Reading Series, curated by Amber Bradshaw:
THE UGANDA PLAY by Theroun Patterson
(Went on to win the 2014 Essential Theatre Playwriting Award and premiere as part of the 2014 Essential Theatre Play Festival)
FORTUNES OF WARREN by Lee Wright
CEMETERY ROW by Karen Wurl
2012 Festival reading:
SPLIT IN THREE by Daryl Fazio
(Went on to be workshopped in Florida Rep's first annual PlayLab Festival then premiered during their next season. Also produced in Aurora Theatre's 16-17 season.)
2011 Festival readings:
MY BROTHER'S KNIFE by Joshua Mikel
PAIN IN THE NECK by Rachel Teagle
THE SPINS by Sara Crawford
(World Premiere production at Out of Box, January 2016)
2005 Festival reading:
APRIL 10, 1535 by Cheryldee Huddleson
2004 Festival readings:
A MATTER OF GRACE by Mary Miller
FLEEING FROM GRACE by Janea Boyles
2003 Festival readings:
DEATH AND THE MIDDLE MAN by Joey Cleary
(Later produced by Working Title Playwrights, directed by Peter Hardy)
BEYOND BELIEF by Daniel Walsh
*Produced thanks to support from Georgia Humanities, in partnership with the Georgia Department of Economic Development, through funding from the Georgia General Assembly.
**Produced in partnership with Working Title Playwrights