World Premiere opens Friday, July 29, 2022
A satiric drama that explores internet journalism, social media, and the culture of outrage – Co-Winner of the 2020 Essential Theatre Playwriting Award.
*Masks required for all audience members.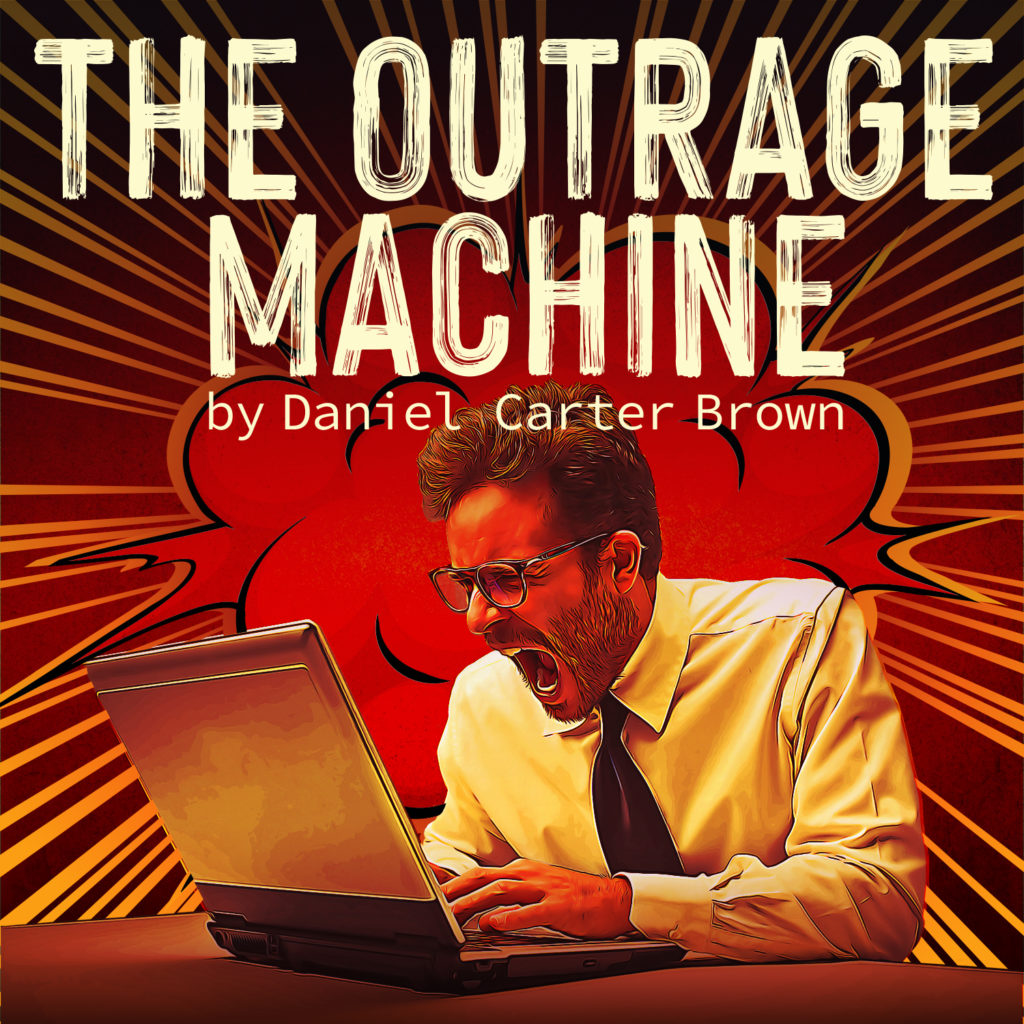 ---
Performance Schedule
Thursday July 28 (8pm) Preview performance
Friday July 29 (8pm) Opening Night
Saturday July 30 (8pm) Neighborhood Night
Sunday August 7 (7pm)
Monday August 8 (8pm) Industry Night
Thursday August 11 (8pm)
Saturday August 13 (8pm)
Sunday August 14 (2pm)
Friday August 19 (8pm)
Sunday August 21 (7pm)
Wednesday August 24 (8pm)
Friday August 26 (8pm) *featuring understudy Marita McKee as Ellie
Saturday August 27 (8pm)
In The Press
What audiences are saying…
"VERY interesting and some nice work. Especially since it addresses issues within the modern media."
"Such a timely, provocative topic and terrific performance!"
"a timely story about fake news, headline manipulations, and other issues. Hannah Morris as Rina is quite enjoyable and believable in her plight for truth and justice. She and her sister Ellie, played by Ellie Styron, have a fun dynamic."
"It's natural for new plays to address the issues and elements of the digital age and social media, but it's easy, I think, for the expression of those elements onstage to become a gimmick which gets in the way of the play itself. THE OUTRAGE MACHINE by Daniel Carter Brown, part of the 2022 Essential Theatre Play Festival, not only avoids the pitfalls but successfully immerses us in that world in the most entertaining and theatrical of ways."
---
Cast:
Rina: Hannah Morris
Ellie: Ellie Styron
Val: Daryl Patrice
Henny: Alejandro Gutierrez
Blair: Anna Fontaine
Neil, Offstage Voice: David Soyka
Marlen, Jude, Whitt: Jeff Hathcoat
Ari, Everett, Host: Matthew Ferro
Tay, Corrie, Kennedy: Kelly Nguyen
Rina Understudy: Holly Tatem
Val/Ellie Understudy: Marita McKee
Ensemble Swing: Daniel Carter Brown
Artistic Team:
Playwright: Daniel Carter Brown
Director: Peter Hardy
Stage Manager: Adam Weisman
Assistant Stage Manager: Daija Brooks
Fight Choreographer: Kristin Storla
Scenic Designer: Gabrielle S. Stephenson
Lighting Designer: Harley Gould
Sound Designer: Frederick Philp
Sound Design Consultant: Kacie Willis
Costume Designer: Savannah Cobb
Props Designer: Dionna D. Davis
---
Meet the Playwright: Daniel Carter Brown
Daniel Carter Brown is co-winner of the 2020 Essential Theatre Playwriting Award, along with Beverly Trader Austin.
Read our interview with Daniel.
Daniel Carter Brown is an actor, playwright, and director who came to Atlanta from Chicago over a decade ago. He's had two full-length plays produced in Atlanta: Honor The System at Out of Box Theatre, and Steal My Heart with New Origins Theatre Company. He's also had numerous short plays produced by Onion Man Productions and others, and he wrote, produced, and directed four sketch comedy shows under his former company Give Us Brains! He also wrote and performed political sketch comedy for the podcast Barely Audible Whisper. He has both acted and directed for OnStage Atlanta, Out of Box Theatre, Academy Theatre, and Onion Man Productions. He spent a year as an apprentice at the Shakespeare Tavern Playhouse when he was new to Atlanta, and later performed in several plays there including playing Demetrius in Midsummer Night's Dream. He also toured several children's shows with Georgia Ensemble Theatre, and performed with various other theatre companies, including Tribal Theatre Group and Merely Players Presents. He works at Emory University School of Medicine, training actors to portray patients as part of the medical school curriculum. He is married to the lovely and talented Emily Sams Brown, whom he met at Out of Box Theatre when they played twins in The House of Yes. They have a four-year-old future thespian named Rayme, and welcomed their second daughter Arden this February.