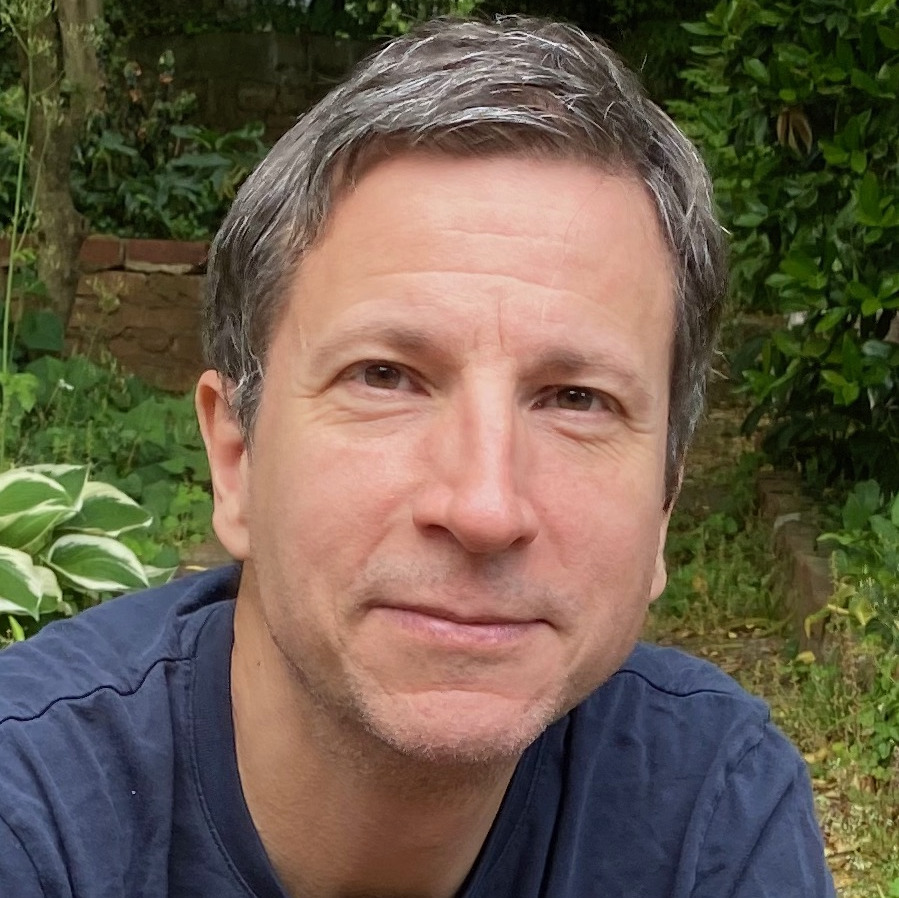 Matthew Hoffman is the 2023 Essential Theatre Playwriting Award winner with his first full-length play, The Manuscript. Read on to learn a little more about Matthew and the play you'll be seeing in August!
---
If you've been following along, the name "Matthew Hoffman" might seem familiar: we also interviewed him last May in advance of his first live reading of a play he wrote (you can read that interview here). A year and a couple of months later, that play is poised to make its world premiere on our stage at this summer's Festival.
The play in question, The Manuscript, is a compelling psychological drama about what we owe to those we've lost. It is a family drama that borrows genre elements from psychological thrillers and crime procedurals: after an up-and-coming writer dies suddenly, her wife and mother engage in an escalating power struggle over her artistic legacy, her identity, and the truth of what "really" happened.
ET: Hi Matthew, congratulations and welcome back! How does it feel to know that your play will be having its world premiere later this summer?
MH: It's hard to express how grateful and honored I am that this play was chosen for Essential Theatre's 2023 award. Everyone in the theater community I've ever talked to agrees that Essential Theatre is the best place for a new playwright in Georgia to get their work a shot at being read and seriously considered.
When you're writing, it's hard to see past the flaws and things you wish worked better, or to objectively evaluate the work as a whole. Watching the play performed by brilliant actors in a staged reading last year finally took the project out of my hands, in a beautiful and freeing way. I can't wait to see what Peter and the cast at Essential Theatre are able to create with the script in a full production.
ET: Where did you get the idea for this play? What made you want to write it?
MH: After my father and sister both died within 18 months of each other in the mid 2010s, I was totally unprepared for the depth and power of the grief to come.
I remember it as a stepping-through into a parallel reality, a shadow world where I believed I would live forever, in the only place I could continue to hold and honor and fully love them both. It was intensely painful, but also brought clarity and purpose: [italics]Death is real. Most of what we do doesn't matter. Save your energy for what's really important.[end italics] I've never taken psychedelics, but I liken it to others' stories of mind-altering experiences that reverberate through and influence one's whole life thereafter.
I don't think my experience was unusual or special. It only seemed so because we've become so distanced from death, and from the rituals and communal practices that (I imagine) better prepared and supported our ancestors in mourning.
I started writing the play as a tribute to my sister and father, and to help myself heal. I wanted to invite an audience into that shadow world, in a kind of guided trip. My family's minor conflicts during that time served as a germ for imagining this much more dramatic, fictional story.
You've said this is your first full-length play: tell us about how you got into playwriting specifically.
MH: Since I was a child I've felt a powerful sense of awe when entering theaters, especially small theaters. The anticipation and suspense just before a show; the spareness and simplicity of an empty stage transformed into an absorbing world; the proximity and fearlessness of the actors; the communion of the crowd receiving and sending its energy back to the stage. I was enthralled, and a voice inside me never stopped whispering "maybe I could be a part of that."
Improv classes at Dad's Garage and Highwire Comedy gave me the confidence to write, perform, and take risks. When this idea started to germinate, I only ever saw it as a play. It needs live actors to fulfill the potential of the story.
My sister was a professional author and a poet, who during her life would tease me as being a "closet writer." (Writing doesn't come easily to me, and I will usually find any excuse to avoid it.) Once I started on this play, I felt driven to create a finished work that she would be proud of.
ET: Are you working on any new projects at the moment? Aside from the Essential Festival this summer, what's next for you?
MH: I'm writing another family drama, this one set in an ICU. It's a struggle between a brother and sister over their father's care, their family's story, and the truth of their own strained relationship, with the bizarre process of health care in the U.S. providing counterpoint and comedy.
I'll also be recording and releasing music as Will Shook on Spotify, Apple and the other platforms, and I'll be submitting this play to other theaters, competitions, and festivals, so stay tuned.
ET: Well we are so excited to be a part of this journey with you. Congratulations! We can't wait to see you at your first ever world premiere very soon!
---
Matthew's play, The Manuscript, will premiere as part of the 2023 Essential Theatre Play Festival and opens Friday August 11 at 7Stages Theatre. Tickets are on sale now at EssentialTheatre.Tix.com.