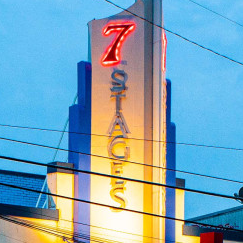 After 15 years performing on Atlanta's Westside, Essential Theatre returns to old stomping grounds in Little Five Points this summer
The Essential Theatre Play Festival returns this summer with a busier lineup than ever, including the world premiere productions of Matthew Hoffman's The Manuscript and Beverly Austin's The Wishing Place.
Essential Theatre has given Georgia playwrights a voice for over 20 years, producing 40+ World Premieres and helping launch the careers of nation-wide successes like Lauren Gunderson and Topher Payne. The 2023 Essential Theatre Play Festival features two world premieres: Matthew Hoffman's The Manuscript, a compelling psychological drama about what we owe to those we've lost, which received the 2023 Essential Theatre Playwriting Award, and the co-Winner of the 2020 Playwriting Award, The Wishing Place by Beverly Austin, a poetic drama about two families in 1960s rural Georgia, one black and one white, trying to find their path and keep their dreams alive.
The festival will also include several one- or two-night-only presentations in addition to these full productions:
Hush Harbor Lab returns to the Festival for a second year presenting a one-night-only reading of Anterior Leverett's Yanni Stone and the Honey Pot Trap, which audiences had the chance to experience an earlier draft of during Synchronicity Theatre's Stripped Bare Arts Incubator Series in April. Leverett's play is a comedy following writer Lena and her titular character Yanni Stone as Lena completes the daunting task of writing her first play all while navigating dating, sex, and virginity in modern day Atlanta.
A two night engagement of Atlanta theater legend Carolyn Cook's newest play Walk With Me: Loving Steps on the Dementia Journey. In this autobiographical play written and performed by Cook, a woman sets out to meet her loved ones with dementia where they are — and returns with a guidebook for fellow travelers. Developed in collaboration with Anne McSweeney of CEU Creations, the performance will be followed by a guided conversation led by McSweeney. Both evenings are eligible for CE credit for social workers, counselors, case managers, and nurses.
On August 12, Essential's 10 Minute Play Bootcamp will conclude with a public showcase of brand new 10 Minute Plays sure to delight and entertain.
Finishing out the festival's offerings is the Bare Essentials Play Reading series which will feature developmental readings of four new plays by Georgia playwrights: The Rock and the Hard Place by Emily McClain, Pas de Deux by Sarah Swiderski, Water Boyz by Kwik Jones, and The Other Bones by Beverly Sylvester.
The Essential Theatre Play Festival runs August 11-September 3 at 7Stages Theatre in Little Five Points. Performance schedule and other details are available at www.EssentialTheatre.com.