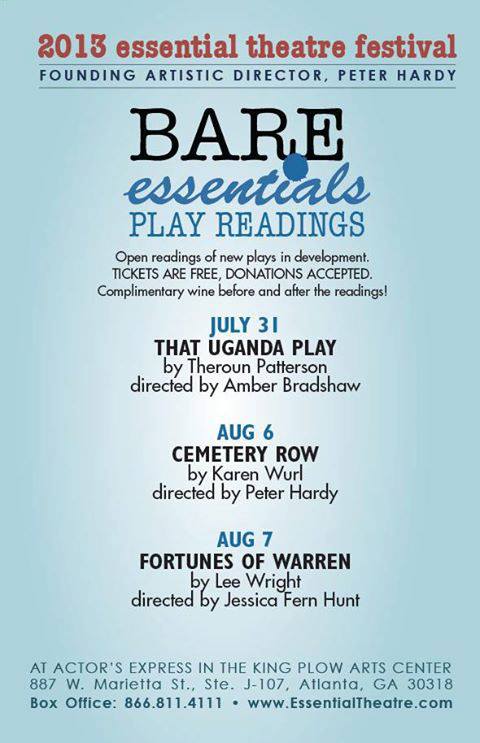 Learn more about playwright Karen Wurl, whose play Cemetery Row is part of this year's Bare Essentials reading series and will be read tomorrow night at 8pm.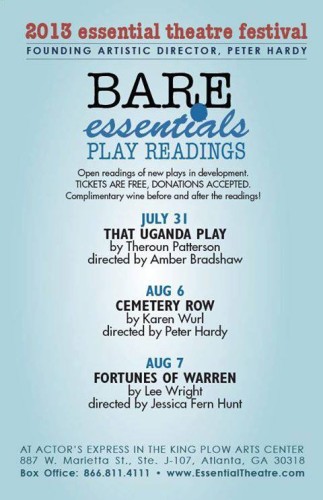 About Karen Wurl:
I was born in Chicago roughly a million years ago (55), and growing up I had an aunt who did theatre with the Playwrights Center at Hull House. So although I grew up working class in the suburbs, I got to be around theatre and new plays, and I decided at an early age to be a playwright. By high school, though, I had decided theatre was lame and so I missed out on that whole experience, sadly.
I moved to Atlanta in 1983, and I raised three daughters here. I got active in Atlanta theatre around 1987, and started having things produced and staged-read in 1988. In the '90s, I also started doing spoken word and slam poetry, but playwriting remains my favorite genre.
So, I lived in the Atlanta area till 2007, when I moved to Michigan to get an MFA in playwriting. I've been out of state ever since: 3 years in Kalamazoo, 1 year in Madison, WI, and then I wound up in Lubbock, TX, where I'm working on a PhD in Fine Arts focusing on theatre. This should be my last year of course work, so I should be able to come back home to GA as soon as next summer, fingers crossed, to work on my dissertation.
About Cemetery Row:
I first began writing Cemetery Row in 2008 in Dramaturgy class at Western Michigan University – we were all required to turn in a creative project, either a documentary play, or an adaptation, or something else I forget quite what, but in any case, Cemetery Row is an adaptation of the romantic ballet Giselle, upon which I have been a bit fixated since I was a little girl who wanted to be a ballerina (this was before I settled on playwriting). Giselle is a ghastly but delicious story about a girl who dies of a broken heart and these spirits, called Wilis, who are the departed souls of rejected and deceived young women who died "before their wedding days." It's set in some kind of generic romantic European village setting; I moved my version to present day Milwaukee. In that class, I was only required to write the first 15-20 pages of the play (we had many other assignments to do as well), but the play was going so well, I finished it and that first version was developed in the summer of 2009 in WMU's New Play Project. It also won best full-length play in our region's Kennedy Center American College Theatre Festival, and had a staged reading there.
I wound up revising the play to be my thesis play, and that version went through another developmental rehearsed reading process at the Kalamazoo Civic Theatre as part of Theatre K, Kalamazoo's new play initiative. Kalamazoo is actually quite a good town for playwrights; it has a very active theatre community, 2 colleges doing theatre, and lots of opportunity. The version that resulted from that thesis/developmental reading process is the version you all are reading.
Where did you get the idea for this play? What made you want to write it?
I wanted to write this play because the image of an Ophelia-like young woman, driven mad by a broken heart, is a romanticized one, one I grew up with, and one I consider fairly messed up. I think we as a culture get some kind of perverse gratification out of this figure. That said, I don't think Cemetery Row necessarily breaks any ground in working with this trope – we've got the dead girls, my version of the Wilis, who've moved from victims to victimizers, which still doesn't solve anything – but I hope the play entertains at least.
What are your thoughts about being a playwright?
Being a playwright? Don't quit your day job(s). Live, and don't hold your breath. I do it because there's nothing else like it, and I've gotten really good at poverty. I don't expect a PhD is really going to change any of that for me anytime soon.
What are your thoughts on Tuesday's Bare Essentials reading of Cemetery Row?
Atlanta is my home, officially and emotionally, so it means a lot that this piece will be heard in Atlanta. I have a happy history with the Essential Theatre because the Essential is doing great work on behalf of Georgia playwrights. I try to submit a play every year!
What's next for you?
I have been directing and learning to direct, and I want to do more of that. I have plans with my kids to work on (writing/pitching/producing) web- and/or TV-miniseries. I hope to find teaching work in Atlanta next year so that I can support my dissertation habit, so anyone out there who knows where I might find adjunct work teaching Theatre and/or English classes, I've got experience with both, please hit me up on facebook…
I'm currently working on my dissertation – two plays and accompanying academic prose. Both plays involve women and death. That's getting to be my signature. Female-centric ghost plays.
The Bare Essentials series is free and open to the public. Donations graciously accepted. Complimentary wine before and after the show. For more information on all the readings as well as the other plays in the festival, visit www.essentialtheatre.com