Interview with playwright Theroun Patterson
–>
Learn more about actor and playwright Theroun Patterson, winner of the 2011 Essential Theatre Playwriting Award and author of this Wednesday night's Bare Essential play, That Uganda Play
–>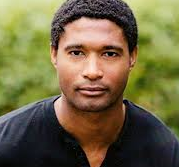 About That Uganda Play: I originally wrote the play in late 2011-early 2012 with a staged reading of the original draft with  Working Title Playwrights and Academy Theatre in January 2012.  The play started as a sort of knee jerk reaction to reading an NPR interview with David Bahati , a Ugandan Member of Parliament that introduced his Anti-Gay Legislation, causing an uproar with Gay Rights groups because the Bill essentially criminalized homosexuality and would have allowed for unprecedented governmental persecution of gays. The article simply made me angry. I started writing to try and understand that type of hatred, to know where it came from, and perhaps to feel better about a my own frustrations about a prejudice that I can't control; that I can't stamp out on my own. With the virulent anti-homosexual sentiments and violence in Africa and recently with the legislation signed into law in Russia, this play is timely and a sheds light on a very American involvement with such a controversial figure like Bahati. Not only that, but I wanted to ground the play within two families and show how a global problem works its way down into our most personal relationships. Honestly I hope a theatre with an interest in starting a community dialogue about social issues will produce this play. My hope is that it provokes debate and conversations late into the night long after its over.
About Theroun: I started as an actor, working for eleven years on Atlanta stages. I started seriously writing plays in 2005, producing and directing my own readings with the help of generous peers that donated their time and talents. In 2009, I joined Working Title Playwrights and wrote the first of four plays that year. I've written a dozen full lengths since 2006. I'm pleased to be working with Essential again after the production of my play A Thousand Circlets.
On the Bare Essentials Series: The reading series allows me the opportunity to refine the play and find new audiences for it to continue a dialogue generated by art.
What is it like to transition from acting to writing? As an actor, there was always an underlying anxiety about performing, but as a writer I have absolutely no fear. I'm willing to learn in front of others, to continue to grow and experiment with story and structure. Playwriting is the form of expression that fits me best as an artist. Acting is secondary to that.
Next for me, is a production of fugitive:EROS and The Chemicals Between Us with Out of Box Theatre next season, as well as the production of Origin Story with Academy Theatre in their new home. I'm also about to start on a new commission with Pinch N Ouch Theatre as well as Mad Hope Theatre Project.
The Bare Essentials series is free and open to the public. Donations graciously accepted. Complimentary wine before and after the show. For more information on all the readings as well as the other plays in the festival, visit www.essentialtheatre.com