Continuing our look back at the past 19 years of Essential Theatre festivals, today we take a look back at the second Essential Theatre Festival, in 2000.

---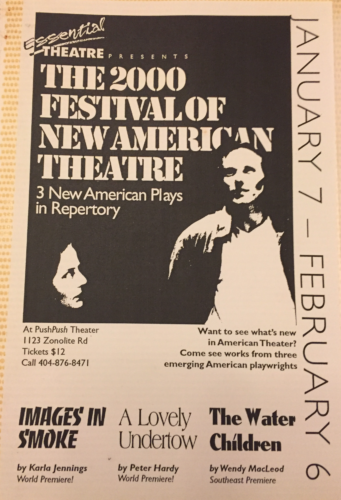 Essential's second Festival took place a year later, in January of 2000. This Festival featured Images in Smoke by Karla Jennings, A Lovely Undertow by Peter Hardy, and The Water Children by Wendy MacLeod. This was the year before the Essential Theatre Playwriting Competition began, but the Festival included two world premiere productions of new plays by Georgia playwrights.
Named one of the year's fifteen best productions by Creative Loafing's Curt Holman, Images in Smoke was the first play by Jennings that Essential produced. This was before the Playwriting Competition had been created, but in 2014 she did win the Playwriting Award with another play, Ravens and Seagulls, which was produced in that summer's festival.
Most theater groups won't risk producing new plays by unknowns; such productions usually require personal contacts or payments. Essential Theatre's an exception. It's dedicated to choosing new plays solely on merit and giving them professional treatment. It takes a risk so that Southern voices can be heard. Essential's faith in playwrights strengthens their faith in themselves, which keeps them writing. Essential Theatre helps Georgia speak for itself.

-Karla Jennings