With 20 days left of our 20th Festival power2give campaign and 20% of our funds already raised, we thought it would be extra-special to take a look back at where we've been. So today, we take a look back at the first-ever Essential Theatre Festival.

---
The time was January, 1999. The plays, Little Egypt by Lynn Siefert, Only Children by Karen Wurl* and Desdemona, A Play About A Handkerchief by Paula Vogel.
Not much survives from this first festival in terms of memorabilia – just a couple of photos and Artistic Director Peter Hardy's recollections. Here are some of his recollections from that time: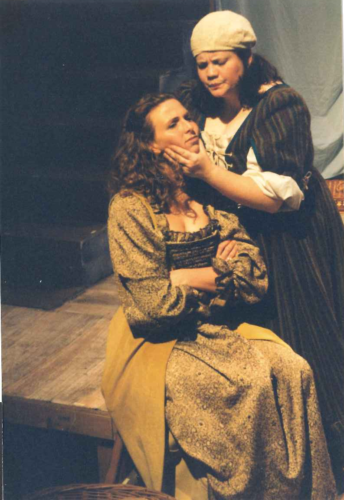 We opened our first Festival in January of 1999, and from the start we knew we wanted to produce at least one new play by a Georgia writer every year.  Back then, we called it the Festival of New American Theatre, because the name "Essential Theatre" didn't mean much to anyone yet, and because our mission was to bring American plays to Atlanta that hadn't been yet been seen in this part of the country. And part of our mission was to annually produce the World Premiere of one new play by a Georgia writer.
In the first few years of the Festival, alongside work by such nationally renowned authors as Paula Vogel, Christopher Durang, Lanford Wilson and Steven Dietz,  we also produced new plays by such local playwrights as Karen Wurl, Karla Jennings, Bill Gibson and an 18-year-old named Lauren Gunderson.  And we didn't treat those new writers like poor relations, either – they got equal billing with their more famous colleagues, and sometimes the plays they wrote even sold more tickets…  
…ONLY CHILDREN, by Karen Wurl, was the Georgia-written play featured in our very first Festival in 1999, two years before the creation of the Essential Theatre Playwriting Award. I had previously directed Karen's comedy KIM'S THEORY for the very first production done in Marietta's Alley Stage in 1990 and had been a fan of hers for a long time, and so she was the first Georgia playwright we produced.
It did okay audience wise. Again, that first year, you know, none of our plays sold really well that first year – although Desdemona finally pulled in, like our final performance of it, we were cramming people in everywhere we possibly could. I think most of them had comps, all these people who knew people in the cast. And I was seating them in places where they actually couldn't see the stage, and they said 'that's alright.'
ONLY CHILDREN was a play about, basically, teenagers whose parents don't know how to deal with them who stick them in a mental institution and they, kind of, rebel and get out. It was a neat play, you know, I like her writing.
After that first festival, Karen went on to write MISS MACBETH, which won the Essential Playwriting Award in 2005 and has gone on to multiple successful productions since that time. She also wrote a very popular segment from NIGHT TRAVELS, which was produced in our 2007 Festival and most recently won the 2016 Essential Theatre Playwriting Award with DISPOSSESSED. She had this to say about her experience with Essential Theatre, and with founding Artistic Director Peter Hardy:
"Essential Theatre's mission is one much needed — to champion and showcase promising work by Georgia playwrights, and my experience with the Festival was terrifically satisfying. By the way, Peter Hardy has been working for years in support of new plays and new playwrights. Even before the founding of The Essential Theatre, he was instrumental in bringing my work to public attention. I think he's one of the great unsung heroes of Atlanta theatre."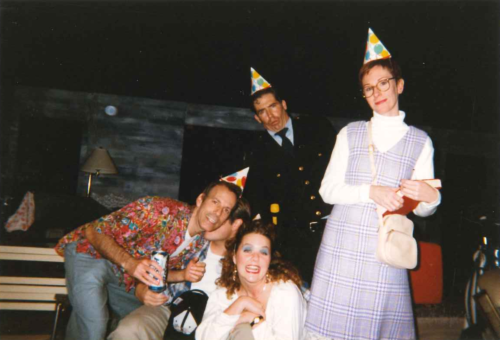 We are proud of our 20-year legacy, starting with the role we had in bringing ONLY CHILDREN and Karen's other plays to life, and we hope you will consider supporting Essential so that we can continue to do so for years to come. Make a donation during the final days of our power2give campaign today: