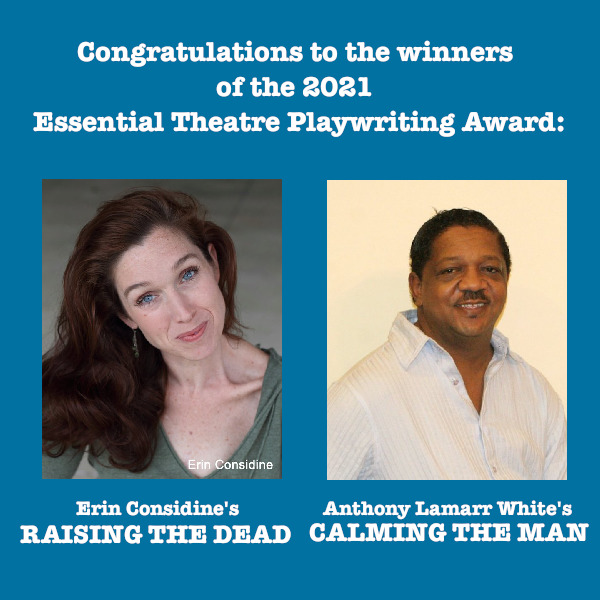 We're delighted and proud to announce the two co-winners of the 2021 Essential Theatre Playwriting Award! They are: CALMING THE MAN by Anthony Lamarr White and RAISING THE DEAD by Erin Considine. Congratulations to the winners! They will each receive a cash prize of $750 and their plays will receive full productions in the 2021 Essential Theatre Play Festival, happening live in person this November at our home since 2014, the West End Performing Arts Center!
We can honestly say that this was the most difficult choice we've had to make in the contest's 21-year history, because of the high quality of this year's submissions.
First given out in 2001, the Essential Theatre Playwriting Award remains the only competition of its kind, exclusively dedicated to the work of Georgia resident writers, and with the winning writers getting both a cash prize and a full production.
The 2021 Essential Theatre Playwriting Award is sponsored in part by Could Be Pretty Cool. Founded by Atlanta-based creative and arts advocate Kacie Willis, Could Be Pretty Cool's mission is to produce unique creative experiences that inspire community building through the arts. Kacie's first involvement with Essential Theatre was as sound designer for the 2018 world premiere of Avery Sharpe's Woke, and she now sits on Essential's board. To learn more about Could Be Pretty Cool, visit https://couldbeprettycool.com/