Atlanta Fringe 2014 is upon us, and this year's Festival features 20 different performance groups from all over the country. We at Essential, of course, are super proud to report that of those, 11 different groups are Georgia artists. Way to represent!
Tonight at 8:00 at 7Stages Theatre,
check out the FREE PREVIEW PARTY
and get a sneak peek of all of the shows!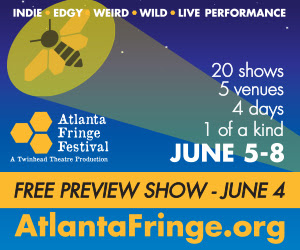 On the docket from Georgia, you will see:
Middle Eastern Dance, from Awalim Dance Company of Stone Mountain
Belly Dancing, from Beyond Borders of Atlanta
Spoken Word/Storytelling, by Corey Bradberry of the Collective Project in Atlanta and the KSU Tellers from Kennesaw
A circus/dance collaboration by Sith Penguin of Clarkston
Comedies presented by Embarc Productions of Fayetteville, EvyDani Endeavors of Atlanta, Puppets Playing Pretend of Atlanta, Shalloewood Productions of Marietta, Will Go Far of Stone Mountain and Twinhead Theatre of Atlanta
This is the third annual Atlanta Fringe Festival, and each year it just gets better. If you've been to one before, you know. If you haven't, it's time you find out! Check out this year's offerings tonight for FREE. See you at the Festival!