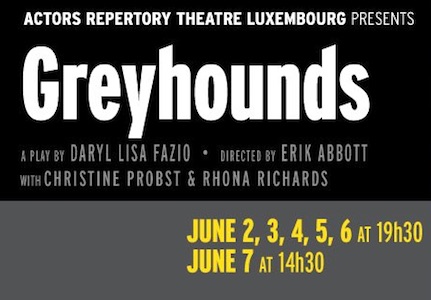 We've been updating you for months now on the world premiere production of Daryl's Split in Three, which closed last weekend at Florida Rep, but now Daryl is going international! Actors Repertory Theatre Luxembourg is producing the European Premiere of her play, Greyhounds, June 2-7.
This is tremendously exciting news, and we're not the only ones who think so. Here is just some of what Actors Rep has to say about Daryl and their upcoming production:
So who is Daryl Fazio?
She is an amazing playwright, the author of the wonderful play 'Greyhounds', and the first of the two exciting contemporary theatrical voices Actors Rep is proudly featuring in our 2015 café theatre season ('Greyhounds' in June, the second one in October).

'Greyhounds' is a sharp and funny and deeply moving play about two women who pause from running to forge an alliance and a friendship.
Way to go, Daryl. Congratulations!!