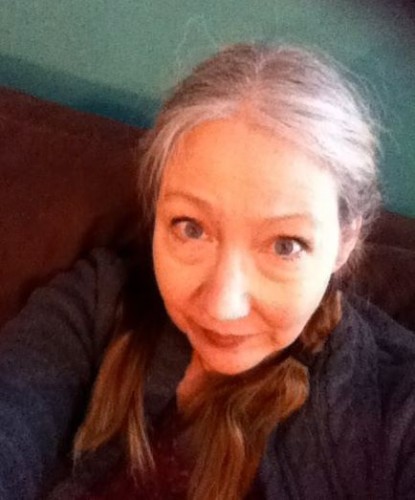 Co-winner of the 2016 Essential Theatre Playwriting Award, Karen Wurl is a playwright, dramaturg, director, teacher, and semi-retired slam poet. She's spent half her life in Chicago, half her life in Atlanta, and the extra bits in Michigan, Wisconsin and Texas. Her plays include Transference, Kim's Theory about the Struggle Between Good and Evil, Only Children, The Play about Frank, Death or Serious Injury Can Occur, The Secret Life of the Proletariat, Miss Macbeth, Vampires, Now and at the Hour Of, Daughter of Fate: The True Story of a Caterer, In Which I Lose My Virginity to My Best Friend's Older Brother, and Underworld. The play we'll be seeing this summer, Dispossessed, along with Underworld, were written as part of Wurl's yet unfinished doctoral dissertation, Haunted Women.
Tell us a little bit about the play we'll be seeing this summer.
Originally intended to be a revision of S. Ansky's The Dybbuk, or Between Two Worlds, ca. 1915, Dispossessed is finally more a response to that play than an adaptation of it. Set in the 1920s, it follows a struggling Yiddish theatre troupe as they rehearse their production of the play – which was at the time an international hit, and which remains a staple of Jewish theatre. At first it seems that life will imitate art, as leading man Natan and leading lady Rivka enter into a romance, but as Rivka communes with Leah, the character she is playing, she begins to think she's been miscast.
Where did you get the idea for this play? What made you want to write it?
I was introduced to Tony Kushner's adaptation of The Dybbuk in a Jewish American Theatre course during my MFA program, and then read Ansky's original in a few different translations. I've been obsessed with this play since my first contact with it. It's probably the most internationally famous play most people have never heard of. In a directing class, I created a 30-minute, 5-actor version of the play (the original probably runs 2-3 hours and calls for over 20 bodies on stage, so the compression was kind of an accomplishment). I was especially fascinated with Leah's situation as a young woman in her time and place; she was essentially without volition. I thought I would someday write a tragic feminist version, but when the time came to write Dispossessed, I think I realized that the original is the most tragic feminist version there could be, if we strip away the romance of the couple's inevitable death.
How did you get into playwriting?
When I was a child, my aunt was active with Hull House in Chicago as part of a theatre group that developed new plays. (Name drop: one of my aunt's friends was Warren Casey, who co-wrote Grease. Warren adopted a kitten from us when my cat had a litter.) So I got to see plays and occasionally readings, and I got to read scripts. I was definitely the only 9-year-old at my school who wanted to be a playwright.
Are you working on any new projects at the moment? What's next for you?
I'm currently struggling to find time to write, but I do have this play in the works, about a woman who shoots her rock star husband. The play is narrated by one of the woman's cats.
What made you decide to submit your play to the Essential Theatre Playwriting Competition?
I try to submit a play to the Essential every year. I'm a huge fan of the Essential Theatre.
Are there any thoughts you'd like to share about having your play produced for the first time?
There's nothing like it. Having a play in rehearsal and then performance – it's just the best experience you can have. Lots of learning. Lots of feels.
How did you find out about Essential and the playwriting contest?
I've known Peter Hardy for a long time. My play Only Children was one of the first plays produced by the Essential Theatre, and I've been fortunate enough to have won the playwriting contest in the past with Miss Macbeth, back in 2005.
Where else can we see your work, either recently, currently or in the coming year(s)?
If you're going to be in Lubbock, Texas, this March, I am one of eleven playwrights who created The Pinsky Project, which premieres there March 2-6. It's based on Poet Laureate Robert Pinsky's Poem "Poem with Lines in Any Order"; each of us got a line. (My line was "Sonny and Toots, in their eighties, still arguing about their father.")
Otherwise, you might catch me reading poetry somewhere sometime.
###
Dispossessed, by Karen Wurl, will premiere in the 2016 Essential Theatre Play Festival this summer. The festival runs July 29-August 28 at the West End Performing Arts Center, 945 Ralph David Abernathy Blvd in Atlanta. Dispossessed opens the festival on July 29. Festival passes go on sale February 29 at the Essential Theatre Festival Announcement Event – mark your calendars and get your tickets today!