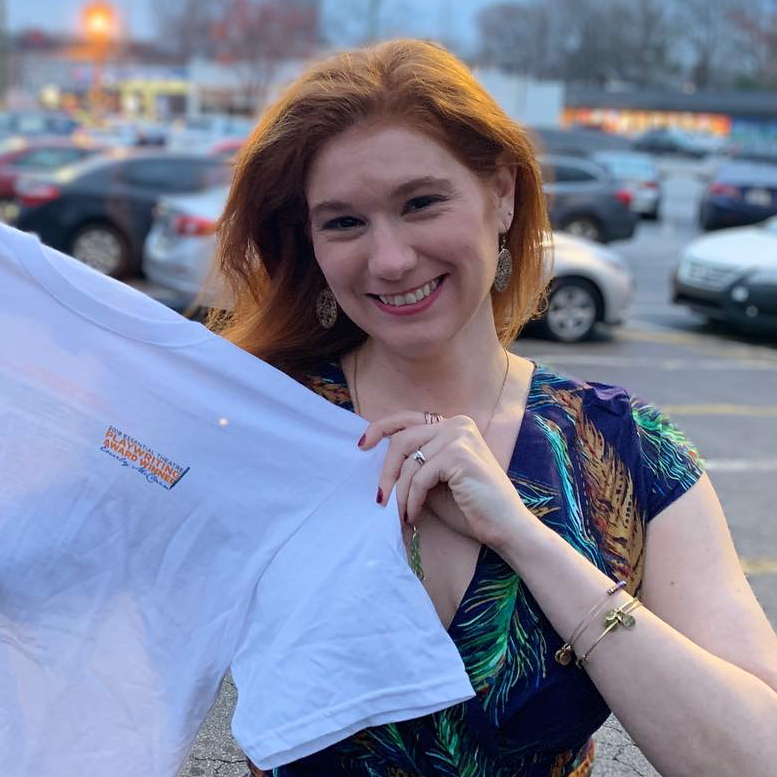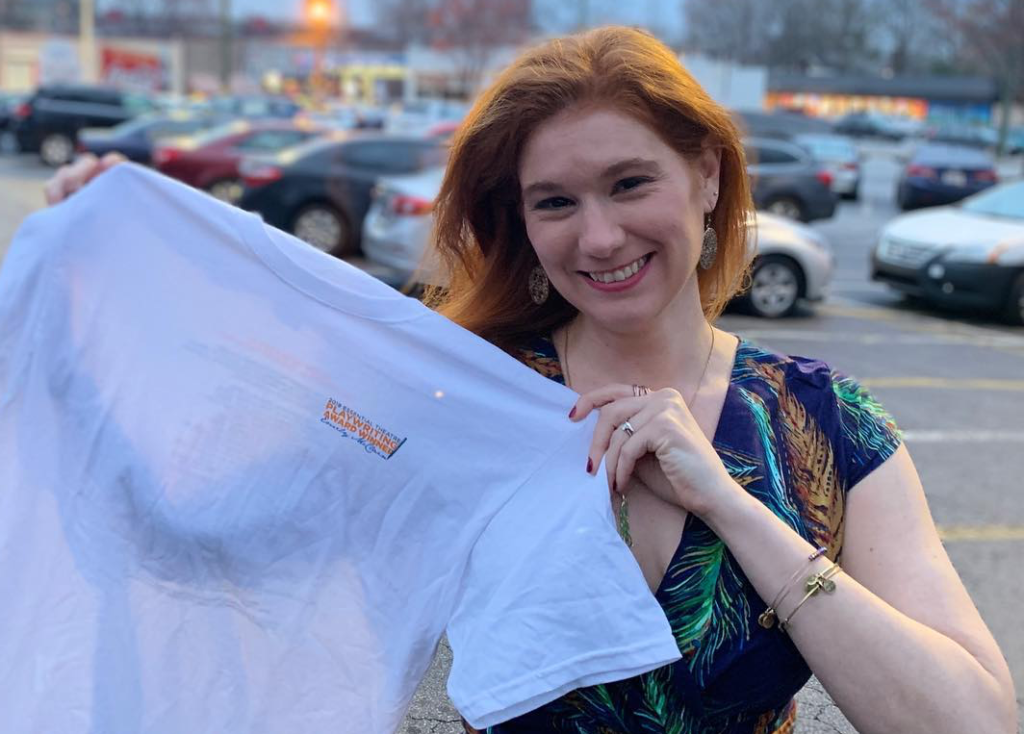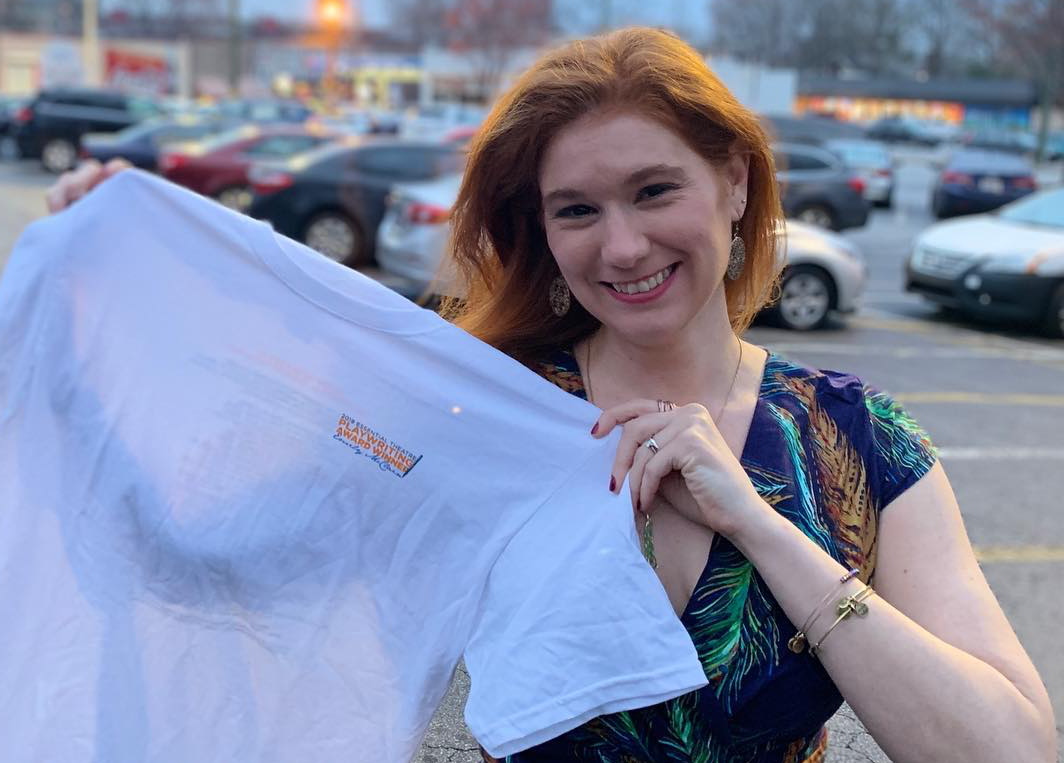 Emily McClain is co-winner of the 2019 Essential Theatre Playwriting Award, along with Ben Thorpe. Emily is the co-director of theatre at Buford High School. She graduated from Berry College with a B.A. in Theatre. Her work has been performed by Out Of Box Theatre, Merely Players, Atlanta AppCo, and the Courtroom Drama Series. She is a member of Working Title Playwrights and Merely Writers. She is particularly passionate about playwriting in schools and spent 9 years working with Georgia Thespians to develop the PlayWorks program for high school theatre students. Slaying Holofernes is her first full-length play. Join us as we get to know her a little bit better:
---
ET: Hi, Emily. Congratulations! What can you tell us about the play we'll be seeing this summer?
EM: The play has two storylines, one in which a young female painter struggles to gain recognition for her work within the male-dominated art world of Renaissance Italy, and the other in the contemporary United States, in which a young career woman encounters her own version of the same challenges as she fights for recognition in the workplace. chiaroscuro or Slaying Holofernes blends and blurs the worlds of past/present, fact/fiction, and personal/political as it explores two women's parallel quests for justice in an imperfect world.
ET: That sounds intriguing – and timely. Where did you get the idea? What made you want to write this play?
EM: I have been enamored of Artemisia Gentileschi as an artist and historical figure for many years. Her story is complicated and tragic, but her strength and resilience is inspiring. I feel a connection to her and her commitment to creating art that fulfills her creative desires. I see the echoes of what she endured in the treatment of women in our modern society. This play explores the structures in society that prevent women from advocating for themselves when they are wronged- both in Renaissance Italy and modern day America. We are living in a moment where we are navigating changing gender dynamics, and some parts of society are slow to catch up. I wanted to write this play to explore those dynamics and to celebrate the strength and resilience of women.
ET: Speaking of strong and resilient women, another personal question: how did you get into playwriting?
EM: I love theatre: performing and directing were my first passions, but playwriting has been a source of creative expression for me for many years. It is truly thrilling to create characters and voices on a page and then see that come alive and become enriched by the collaboration with other artists.
ET: Are you working on any new projects at the moment? What's next for you?

EM: I have several new plays in various stages of development- I just finished my first draft of a play based on the single performance of Julius Caesar that all three Booth brothers participated in prior to John Wilkes Booth's assassination of Lincoln. My second full-length play, CHEEK BY JOWL, was selected for the Elephant Ears Reading Session in Philadelphia in May of this year. I continue to write 10 minute plays for various festivals around Atlanta.
ET: Where else can we see your work, either recently, currently or in the coming year(s)?

EM: I'm excited to see my play Secret Family Recipes go up at Out Of Box for the Women's Shorts production in April. My play The Great Suburban Outback will be performed at Merely Players' Amplifest 10 Minute Play Festival in May as well (it has been performed already by the Atlanta AppCo Alumni as part of their Culture series) and I cannot wait to see it performed too. Most importantly, I will have a reading of SLAYING HOLOFERNES through the Ethel Woolson Lab for Working Title Playwrights on March 31 at 7:30 PM.
ET: What led you to decide to submit your play to the Essential Theatre Playwriting Contest?
EM: I have attended Essential Theatre many times and I believe strongly in their mission of championing new works by Georgia playwrights. Essential is doing the kind of theatre that is interesting and vital– maybe even "essential?" Ha! This is the first time I have submitted to the contest. I felt like my play was in line with style and substance of the pieces I'd see in prior years, and would be a good fit for the mission of the theater.
ET: How does it feel to have the world premiere production of your script on the horizon?
EM: It is exhilarating. Good theatre thrives on collaboration and to be able to be a part of that process is so thrilling.
ET: Well congratulations, once again. We look forward to working with you and bringing your play to life in the Festival this summer!
---
Emily's play, Slaying Holofernes, will premiere as part of the 2019 Essential Theatre Play Festival and opens Friday, July 26, 2019. Festival Passes are on sale now at EssentialTheatre.Tix.com.