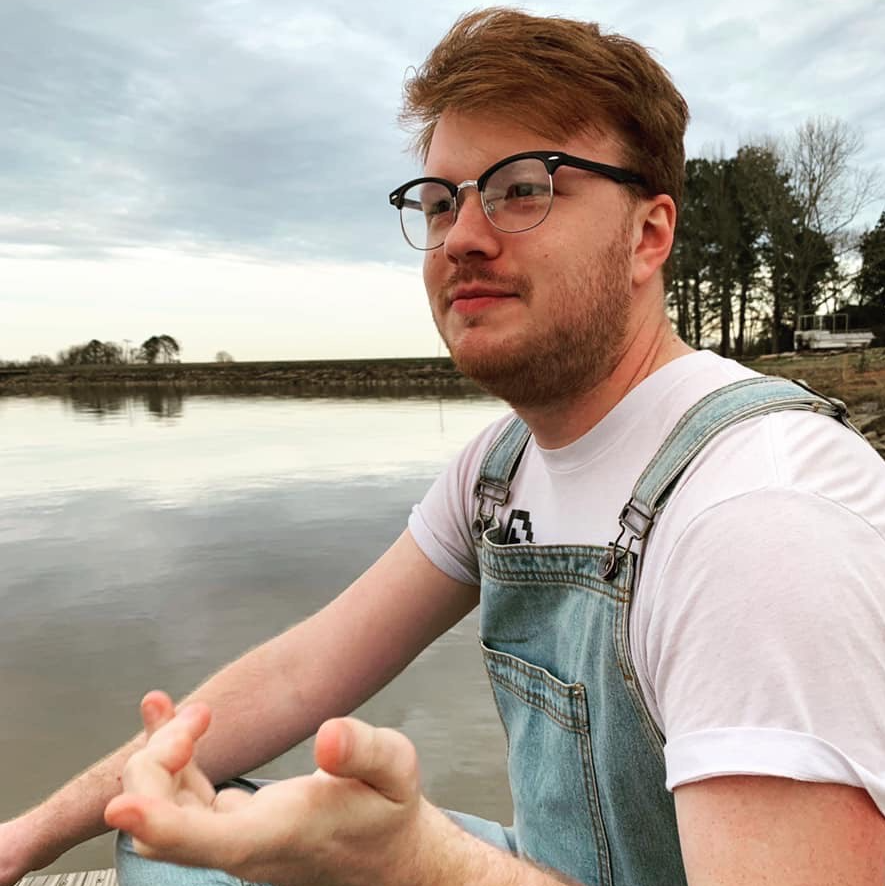 Monday night's Bare Essentials Play Reading is Dead Gay Body, written by Abraham Johnson. Read on to learn a little more about the playwright and the play we'll be seeing Monday night!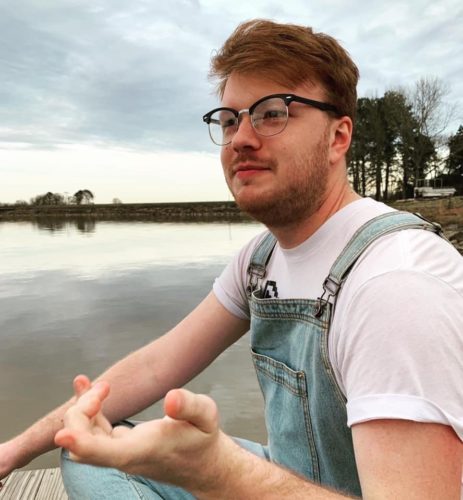 Abraham Johnson (all pronouns) is an Atlanta-based playwright who writes Big Messy Queer plays centering around audience communion. Abe has been named a two-time Lambda Literary Playwriting Fellow, a resident artist at the Sundress Academy, and a finalist for the 2020 National Young Playwrights Residency. In 2021 Abe will be a 4x finalist for the Greenhouse Residency at SPACE on Ryder Farms, as well as a playwriting scholar at the Suwanee Writers' Conference. Production or development credits include the New Georgia Group, the Horizon Theater, Process Theater, Out of Box Theater, Essential Theatre, Synchronicity Theatre, Out Front Theater, Langhorne Players, the Classic City Fringe Festival, the Lionheart Theater Company, the Workshop Theater, and the intern/apprentice companies at the Eugene O'Neill Theater Center.
Hi Abe! So what can you tell us about the play we'll be hearing Monday night?
Strange, homosexual things are happening at Ronald Reagan High after the suicide of Twinkie McBottoms. When Twinkie's last words are discovered–"I hate straight people"– the school counselor is thrust into action, determined to create a safe space for straight students to be themselves again. She will have to team up with the first openly gay student body president, a secretly senstive football player, a garden-loving Principal, and even the audience to organize a "Diversity Day" that these heterosexuals will never forget. But first, we have to figure out: why are there dead gay bodies popping up all over school? And who the heck has even heard of Laramie, Wyoming? * If you like queer anger, straight people being idiots, and LGBTQ history, this is a play for you.
Where did you get the idea for this play? What made you want to write it?
I started this play a week after the Pulse Shooting in Orlando. I remember being totally shocked and frozen from the news… until I started seeing all of these #thoughtsandprayers posts. A ton of people I loved and still love were trying to bury this horrible event with hashtags. I was like, "Um, we actually might need something a little more powerful? Right now?" So that energy yanked me into the world of this play. Originally, the first couple of drafts were really somber and reaching towards a logic that wasn't there. Then when I produced an early draft at the University of Georgia I had this epiphany that there didn't need to be logic. I was a younger playwright then, and I thought I needed to write straight realism to be taken seriously. But once I leaned into the absurdity of trying to hashtag away hate crimes, it cracked open the world of this play.
How did you get into playwriting?
Writing has always been a part of my family – my grandfather was a poet, both my parents are writers, and my brother is a writer. So writing was always something I gravitated towards. It wasn't until around 11th grade that I fell in love with acting and theater. After a couple of school productions and getting closer with my high school theater teacher, he heard I had won a national award for a short story I had written. He prompted me to try writing a play, and I pretty immediately was like, "Um, literally all playwrights are dead, what are you talking about?" Finally I caved and wrote a pretty bad one-act play. He organized a reading of it with a couple of theater students, and at the end of that reading he announced that we would be producing it in the Fall. That was my big kick-start moment.
Wow! Thank you, High School Theater Teacher!
So that first play reading obviously had a pretty big impact on you as a playwright…As you've developed as a writer since then, what has been the importance of staged readings in your own creative process and the development of your plays?
To me, staged readings are the point in the development process when you get to dream the most technicolor version of your play possible. And you get to do that with actors! And a director! I miss the tiny dramas of in-person readings – people tapping pencils, talking to actors next to water fountains, the awkward parking lot goodbyes – but even in virtual readings there are so many things to learn from actors and directors innovating within the confines of a zoom box.
What do you hope to gain from this Bare Essentials experience? What has your experience with this reading been so far?
Getting to have a majority Black creative team on this project has already brought so many new dimensions to this script, especially because at the core of this play is how politics, identity, and diversity can be manipulated by supremacist systems. Not to mention how complicated the question is of "who is complicit?" Talking with Parris and Lexi about the "hashtag activism" of Ronald Reagan High has hit a well of recognized experience, and that's shifted some of my edits about how complicit F***** is, and what systems of power are at work in this world. So really I just hope that by the end of this process we've all learned a little more about how much power these characters are wielding.
We had our first cold-read of the script last weekend and I was stunned from the actors. They clicked into place in a way I haven't felt with this script before. What's been most exciting is that they're not just magnifying the comedy, but they're adding so much dimension that I didn't know was there to explore. The role of F***** has grown more tragic. Counselor is a volcanic hot mess. Principal Nancy brings such a sense of history to the world, and Buck has defined into such a loveable himbo. The actors are bringing the heat in this reading, and of course that's due in part to the vision and support that our director Parris and stage manager Lexi have been able to provide.
That's fantastic to hear! I can't wait for the reading AND the conversation on Monday night. Do you have any other projects on the horizon that we should be aware of?
Yes, actually! On November 21st I have a virtual reading of my script "and we will eat your grief" with RDA Producing in Syracuse, NY. I'm really excited for this experience just because the reading is a part of their Frontera Residency program–– as the inaugural playwright, I got to pitch them literally whatever 3 projects I wanted to work on. Additionally, in summer 2021 I'll be a playwriting scholar at the Suwanee Writer's Conference which I'm thrilled about.
Readers, note the links to RDA above – if you'd like to see another Abe Johnson play, it looks like you'll have the chance very soon!
Abe, do you mind if I ask how you found out about Essential Theatre and our playwriting contest?
I met Peter Hardy when he gave a panel at the the 2016 Horizon Young Playwrights Festival. In talking to him afterwards about the Essential playwriting contest, I had no idea that playwrights like Lauren Gunderson and Topher Payne came out of this theater. That was a big "aha" moment for me–– realizing that Atlanta (and Essential more specifically) had helped support and launch such major national voices.
And we're glad to be able to play a role in supporting your voice as well – you've already come a long way from "Um, literally all playwrights are dead, what are you talking about?"
#     #     #
Directed by Parris Sarter. Stage Managed by Lexi McKay.
CAST:
Marcie Millard, Markell Williams, Mia Kristin Smith, Chris Harding
All readings in the Bare Essentials Play Reading Series are free and open to the public thanks to support from Georgia Humanities, in partnership with the Georgia Department of Economic Development, through funding from the Georgia General Assembly. Funding for this program is also provided by the Fulton County Board of Commissioners. This series is curated by Essential's founding Artistic Director, Peter Hardy.