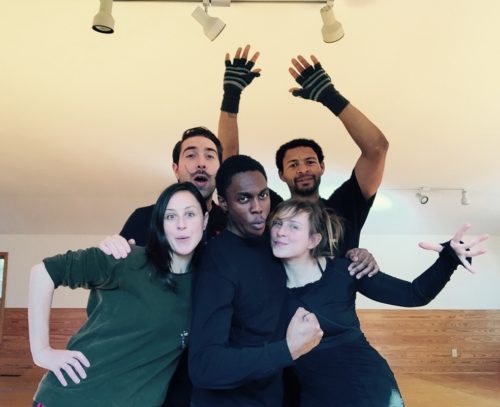 At noon this Saturday, Makeshift Circus Collective's Sara Gregory will lead a workshop entitled Mindful Story Gathering: Seeking to address social barriers from beginning to end of community based art making processes. This workshop will focus on ways to approach the information gathering process of community based art making. MakeShift is an Atlanta based collective that calls together diverse groups of social artists and community members to delve into issues of importance. Their current initiative, the Gender Project, will produce a circus show driven by and culminating in community dialogue to be shared free of charge in metro Atlanta. During the workshop, Sara will offer an overview of methods of collecting community stories and experiences with a specific focus on best practices for the creation of interview/story circles.
MakeShift's mission is to collaboratively provoke exciting, depthful, and transformative moments through teaching and performing circus in Atlanta and beyond.
We are process oriented, seeking to be a part of projects that will transform us into better agents for social change.  We do not see ourselves as outside of the issues that our work delves into, drawing from the concept of Theater of the Oppressed which recognizes that everyone creates the situations that allow social justice to continue. We all have a stake in moving forward social equity for all beings.
Our larger projects generally run on a two year cycle beginning with the identification of the social issue that the specific project will address.  Next we investigate the context of the issue by reading, viewing documentaries, attending events and lectures, and working to connect and learn with others touched by the issue.  We then reach out to the larger community to gather voices that would amplify the complexities of the issue.   Through story circles and interviews we gather recordings of community members sharing their stories and experiences.  Next we work with social artists that are representative of key stakeholders to create a performance that will bring the stories to life on stage.  We then host a season of free, widely accessible performances followed by dialogue amongst audience members.
Sara Gregory is a founding member of MakeShift Circus Collective and is the coordinator of their current initiative, the Gender Project.  Please visit https://makeshiftcircus.org/ to listen in on the Gender Booth, in which our interviewers will themselves share intimately about their own gender experiences as we are asking others to do. She spent five years traveling around the Americas collaborating with social circus organizations in around 15 countries in preparation to bring fresh perspectives to the budding social circus movement in the US. She earned her Masters degree in community Social Work from Georgia State.  She feels so fortunate to be walking a path that nourishes her mind, body, and soul.