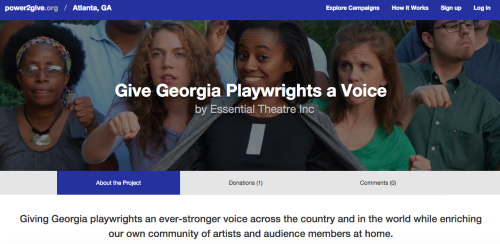 About the Project
Essential Theatre is the longest-running theatre dedicated exclusively to supporting the work of Georgia playwrights. Although we only produce plays during the festival, our year-round work continues to expand as we find new ways to give Georgia playwrights a voice. This fall, help us expand our boundaries and deepen our roots as we take the next steps to ensure that Georgia's playwrights become recognized as significant new American playwrights, which is what they truly are.
What your donation will support:
Processing Playwriting Competition Submissions: We had another record-breaking year of submissions to our playwriting competition, and we're pleased to see the great work keep rolling in. But reading and evaluating more than 80 scripts takes time! Help us give these plays the time and attention they deserve.
Growing our Bare Essentials series by producing readings locally year-round and developing a Bare Essentials touring package, to extend our reach outside of Metro Atlanta and across the state. All of our Bare Essentials play readings are chosen from submissions to our playwriting competition. Visit https://essentialtheatre.com/bare-essentials-play-readings/ to find out more about the Bare Essentials play reading series
Strategic Planning: Assessment, evaluation and grounded planning are vital to an organization's sustainability. It's a strategic planning year for us, and we have lots to consider! We are committed to producing top-quality professional productions of the best new works by Georgia playwrights, and to providing an accessible and enriching theatre experience for our audiences. Help us develop a plan that will ensure that we are bringing Atlanta what's new and giving Georgia playwrights a voice for years to come!
Matching Sponsors
Our generous sponsors will contribute $1 for every $1 donated to this project up to $5,000 !