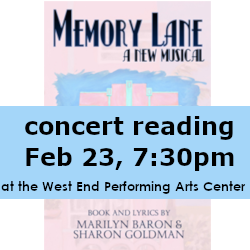 book and lyrics by Marilyn Baron and Sharon Goldman directed by Peter Hardy
music direction by Olivia Sloan Ivey
FEATURING THE READING AND MUSICAL TALENTS OF: Rylee Bunton as Sunny, Barry West as Chuck, Darrell Wofford as Stan, Anjil Jeter as Davonda, Pat Bell as Grace, Sarah Cave as Julia, Patrick Hill as Brett and Jean-Pierre, Robert Wayne as Monty Stone and Dr. Wilson, Marc Gowan as Mr. Mathers, Bobbie Elzey as Lillian, Betty Mitchell as Mildred, Marianne Geyer as Bessie Nat Martin as Pastor Brown, and Tanya Caldwell as Sissie.
Take a trip down Memory Lane, a new musical about Alzheimer's that takes a light-hearted, but poignant, look at this global epidemic.
Memory Lane, an Art Deco adult day care facility for Alzheimer's patients on South Beach, will soon be just a memory. Budget cuts have forced the county to sell the valuable property to a real estate developer who wants to turn it into upscale, high-rise condos and turn away the seniors who depend on their home away from home. Enter Sunny, a high school senior with an attitude, reluctantly working as a summer intern at Memory Lane; her feisty boss and mentor, Memory Lane director
DaVonda Jones; a couple of caregivers who take a second chance on love; and a cast of lovable seniors who help us remember that some things, like love, are impossible to forget.
**All readings in the Bare Essentials series are free and open to the public. Donations to support this and other Essential Theatre programming may be made through this Eventbrite event or on our website at: https://essentialtheatre.com/support-us/ **
Be sure to stay after for exciting conversation with the director, cast and playwrights!
Meet the Playwrights: Marilyn Baron and Sharon Goldman
Click here to view an archive recording of the reading.
---
Artist and Audience Response:
From the playwrights:
We are so thrilled to finally hear our words and music come alive on stage. And thank you Peter and Essential Theatre for believing in us and sharing our vision. We appreciate the opportunity you provided and your confidence in our project…It took us seven years to get to this point and we are not going to give up. We will never forget you and this experience. We are so proud to be associated with such a talented and warm group of people. You made us truly feel like family. Each of you made a unique contribution that was vital to the show.
From the cast:
It was such a pleasure meeting new folks and catching up with old friends. I was moved deeply by all of the talent I was surrounded by. The voices!!! The acting! The direction. Whatever gifts we all had….it all came together that night.
Thank you for allowing me to be a part of such an amazing production! It was a blessing to work such talented individuals. I am glad I got a chance to meet you all!
I am so glad I was able to be a part of this production!  And now, talk about timing…  check out this article that I just saw and read from The New Yorker this morning.