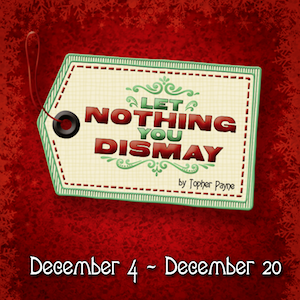 Commissioned by Stage Door Players in Dunwoody, GA, written by Topher Payne, directed by Shannon Eubanks (Director, Lillian Likes It, 2015 Essential Theatre Festival) and featuring the dynamic acting talents of Bryan Brendle, Amanda Cucher, Shelly McCook, Doyle Reynolds, Gina Rickicki, Emily Sams and Ben Silver, Let Nothing You Dismay is enjoying a very successful first run and is sure to become a holiday tradition in years to come.
"I'm a longtime fan of the work done at Stage Door Players and the relationship Robert Egizio has built with their patrons during his tenure," says Payne, "so when he expressed interest in moving into the production of new works, allowing them to be the first to experience a story? Heck yeah I wanted to be a part of that."
The only remaining tickets for this inaugural run are for next Wednesday and Thursday nights, December 16 and 17, so if you don't already have tickets, get them today!
And check out these previews and reviews that are already in:
It's been a tremendous year for Georgia playwrights, and for Topher Payne in general. Be a part of the celebration and go see Let Nothing You Dismay today!