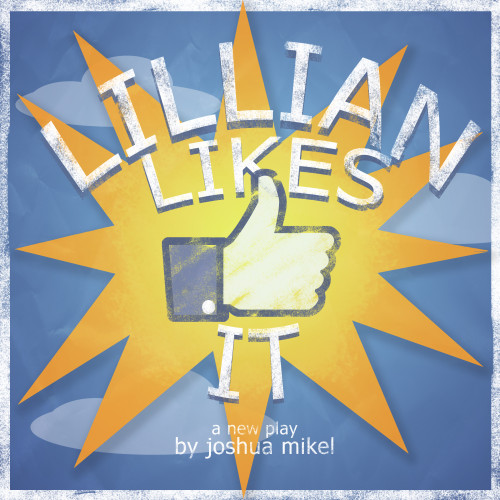 8/3/2015        LILLIAN LIKES IT              Essential Theatre Play Festival
Click here to read the article on the Atlanta Theatre Buzz website!
*****  ( A+ ) 
#ATBUZZ_LIKES_IT
On-Line Relationships are easy.  All communication is controlled (flame wars aside) and there is none of that messy body-language/subtext/why-don't-you-know-what-I'm-thinking messiness that plague relationships IRL.
There is nothing new or groundbreaking about this, especially those of us who predate the "plugged-in" generations.  But Joshua Mikel's "Lillian Likes It" frames the theme in an entertainment so alive, so emotionally rich, so seems-so-hip-to-us-old-farts that the obvious quickly becomes sublime.
Lillian is having the Worst Monday Ever.  Having just taken over the management of a trendy coffee shop, her morning is disrupted by a distraught woman, Babs, creating a "scene."  Apparently Lillian has had a half-remembered one-nighter with Babs' fiancé, to whom the encounter meant more than expected.  He has left her a box full of love letters written on his deathbed.  It doesn't help that social media from one of Lillian's workers is, um, somewhat less than complementary.
Meanwhile, Lillian's chronically unattached BFF, Lynne, has become obsessed with a new Dating App, "Lazarus," which uses a complex algorithm to generate messages to potential mates.  Lillian's own fiancé, Ernie, has scored a one-line role in a cheesy horror movie and Lillian's feigned interest seems a bit too, well, feigned.
Something in the box of letters appeals to Lillian, and she creates a Lazarus profile for the dead man, Larry.  It doesn't take long for Lazarus to generate messages from Larry, or for "Larry" and Lillian to engage in all-night heart-to-heart text-a-thons.  And more.
All of this would be fun and amusing, but the play gets a lot more effective as real folks begin to intrude on Lillian's fantasy life.  How will Ernie react to competition from a dead man?  How will Babs react to the "rebirth" of the husband she just buried?  Is love possible when sharing the "best of times" becomes a chore?  And, more to the point, is "true love" only the engagement of compatibilities, or is it the "being there" when times are at their worst?
There are loads of funny tweaking-the-social-media bits — "Unfriend" every time a disagreement occurs, a choral shout of "Lillian Likes It" anytime Lillian … well … "likes" something, a running Farmville gag that never grows old, a Lazarus "Gatekeeper" with the negotiating skills (and charms) of a successful Drug Pusher.  But it's the real life interactions that hit all the correct "serious" buttons — the heart-to-hearts Lillian and Lynne share at their yoga class, Babs' tearful rant about Larry's last days, even Dead-Larry's texts delivered by a living embodiment behind a lap-top-screen scrim.
Except for Lillian (a real and effective Alyssa Caputo), the entire cast plays a chorus of social media "voices" in addition to their primary roles-in-Lillian's-life.  Ben Silver is extraordinary likable as Larry and his twin brother. Antonia LaChe is effective as both Babs and the Lazarus Gatekeeper. Tyler Hayes is charmingly clueless as Ernie. Christine Vozniak is a sadly searching Lynne, and Pat Young is "cool" as "Knife," Lillian's on-the-job nemesis.
Shannon Eubanks directs them all with a great sense of pace and a greater "ear" for the sorts of verbal shorthands and idioms that seem to make up on-line discourse.  Computer-Screen scrims are nicely conceived and executed by set and light designer Harley Gould, and Rial Ellsworth has created a soundscape that provides nicely aural mileposts for navigating the at-odds real and virtual worlds of the play.
It would be easy to characterize this play as satirizing the shallowness of "life on-line" and the knee-jerk responses and "comments" that seem to be the bread-and-butter of social media.  But it is clear that the playwright has tons of respect and affection for the media, that "shallowness" is itself a "knee-jerk" reaction.  The emotions "Dead-Larry" engenders in Lillian are anything but shallow — they go to her "core," leading her to re-evaluate her own "IRL" relationships, leading to a greater appreciation of them.  It doesn't take long for her to recognize "Dead-Larry" as a pale shadow of the real man she never really knew.
And, it's abundantly clear that Mr. Mikel is an intensely talented playwright with a talent for character, dialogue, and emotional ambiguity.  It doesn't hurt that he has an ear for the poetic rhythms and lyrical possibilities of on-line idiom (note all the "L"-named characters).  It doesn't hurt that he can write lines that can move an audience to laugh and cry, to smile and wince, and. ultimately, to applaud in profound satisfaction.
---