CONGRATULATIONS
to all the 2015 Suzi Bass Award winners. We're especially proud of the following folks, whose work you've also seen on our stage throughout the years: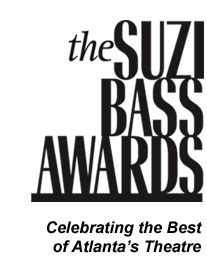 Philip DePoy (Outstanding Production – Play, Edward Foote, the Alliance Theatre)
Tiffany Porter (Outstanding Featured Actress, The Whale, Actor's Express)
Robin Bloodworth, Bobby Labartino
(Outstanding Ensemble Cast – Play, Clybourne Park, Aurora Theatre)
Brad Raymond (Outstanding Ensemble Cast – Musical, Chasin' Dem Blues, Kenny Leon's True Colors Theatre Company)
Topher Payne (Gene-Gabriel Moore Playwriting Award, Perfect Arrangement)
and most notably and dear to all of our hearts, Jo Howarth Noonan, who earned the Lifetime Achievement Award.
For a complete list of 2015 Suzi Bass Award nominees and winners, click here.