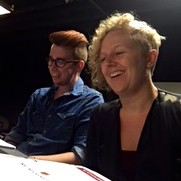 As the dust settles from this summer's festival and we're looking ahead to our next Bare Essentials reading, I got to spend some time with Amber Bradshaw. Amber is directing the next Bare Essentials reading on September 30, but she has been a backbone of Essential's play development work for years. Read on to hear her thoughts on developing new plays, working with Essential and The End of William Henry, our next Bare Essentials reading this coming Thursday night.
Tell us a little about yourself as an artist. What kinds of projects do you most enjoy working on?
New development is definitely my passion. I love working with playwrights on their work and bringing it to life with actors and AD/SM friends. The process is extremely satisfying for me and I love the way people respond to readings. I would love to do this work all the time if I could. I've developed work with choreographers, puppeteers, drag queens. I love to start from scratch or work on fresh drafts. I like to get work to the point at which
it can move on and get produced. Several of my projects have gone on to be produced shortly after working with me. I'm proud of that. I want people to see these shows, hear these stories. I want them to get to know the heart of what these plays are about, which is always: people.
I love telling stories. Puppetry. Dancing. Video and Projection. I direct, I write, I perform sometimes. I find the performance arts satisfying because collaboration is my drug. I can't get enough.
You've been involved with Essential for several years now. How did that relationship start?
I've been working with Essential as a director, dramaturg and sometimes curator of the Bare Essentials Series, as well as full length productions for over five years. I've known AD Peter Hardy for over ten years when I cast him in my first professional production as a director. Essential has a special place in my heart.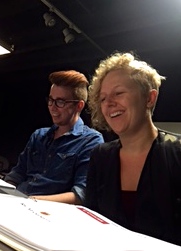 What keeps you coming back to Essential year to year?
[Essential is] a place where people are welcomed with open arms to present themselves and their work, and a place where audiences feel like stories they want to hear are being told. I love the diversity of the Essential audience. It's truly all-inclusive.
And doing new work by local playwrights is extremely valuable to the community that we work in. This community needs Essential for the work they support and the artists they discover. And within that, Bare Essentials is a reminder that the process is as valuable as the final product. It's the journey! Your attendance at a stage reading is your opportunity to have your voice heard. How amazing is that? You get to have the ear of a playwright! I love the interaction that the series offers the audience.
Joshua Mikel, whom readers may remember from this summer's festival, cites his experience with you in the Bare Essentials reading of another of his plays, My Brother's Knife, in 2010 as the experience that prompted him to start submitting plays to the Essential Playwriting Award competition. Do you have anything to share about your experience with that show that audiences might find interesting?
Well that's really nice of him to say! That's one talented kid right there. I look forward to seeing where he goes! I loved working with Joshua. He was actually the first playwright I worked with exclusively for the Essential Series. He was young and fresh, and his play was a raucous ride set in North Georgia. A story of two brothers who lost one another. Beautiful stuff. Joshua was recently an actor in a reading I directed for Working Title. He's also exceptionally talented at that!
What can you tell us about the play we'll be hearing on Sept 30? What led you to want to work with this script in particular?
The End of William Henry is a beautiful script. It's set to two time periods in the same building, with characters who in most cases are related somehow, through generations. In 1920, a carnival snake charmer has murdered her husband and ended up in a sanitarium. In 2015, the son of a TV personality has tried to commit suicide by taking pills and has ended up in the same institution, 95 years later. The two worlds are woven together beautifully and both stories are fascinating. It's a wild ride, very suspenseful, the characters are bright and well-crafted. It's come a long way since Caleb and I starting working on it together.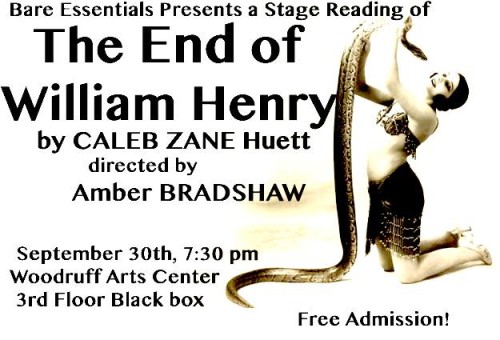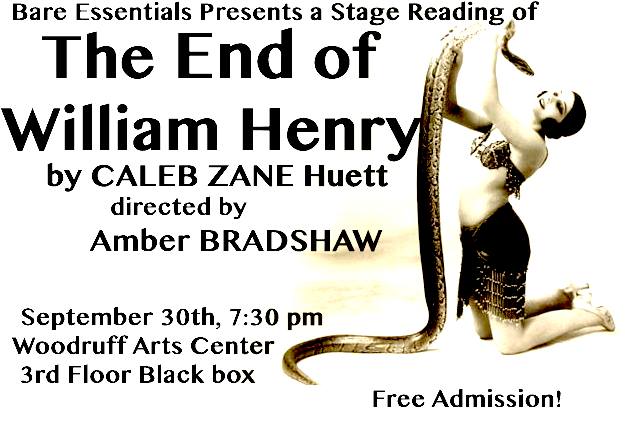 I chose the script because
I loved the images it invoked, women and serpents, medusa. I especially enjoyed the two time periods and how they collide. And I felt like the writing had real promise.
What's your next project, and/or is there a way people can follow your work if they want to?
I am cooking up a production with Park Krausen. A play by Jane Chambers. And that's really all I can say about that right now.
###
The next Bare Essentials reading, The End of William Henry, directed by Amber and written by Caleb Zane Huett, will take place on September 30th at 7:30pm at the Woodruff Arts Center in the Third Floor Black Box. As always, the reading is free and open to the public. Stay tuned to Essential for an interview with Caleb, the playwright, early next week. To follow Amber's work with Essential and elsewhere, take a look at her website, www.AmberBradshaw.com