Winner of the 2010 Essential Theatre Playwriting Award, Gabriel Jason Dean's plays have been produced or developed at Theatre Row, Hangar Theatre, New York Theatre Workshop, the Lark Play Development Center, New York Stage and Film, People's Light & Theatre, ASSITEJ International Association of Theatre for Children and Young People, the Kennedy Center, Dallas Children's Theater, A Red Orchid Theatre, Aurora Theatre, Dad's Garage Theatre, Actor's Express Theatre Company, Horizon Theatre Company, Illinois Shakespeare Festival, Source Festival in Washington, D.C., and Essential Theatre. Dean received the Kennedy Center's ACTF 2012 Paula Vogel Prize, Theatre for Young Audience's Award and was runner-up for the Steinberg/ATCA National Playwriting Award. In 2011, he received the Kennedy Center American College Theater Festival Theatre for Young Audiences Playwriting Award, Ken Ludwig Prize for a body of work from an emerging writer and was runner-up for the Princess Grace Award. In addition to the 2010 Essential Theatre New Play Prize and won the 2010 Samuel French Off-Off Broadway Festival. Dean was voted Best Playwright in 2009 by Creative Loafing Atlanta. In 2005, he won the City of Atlanta Bureau of Cultural Affairs Playwriting Award. Other plays have been finalists or semi-finalists for the Seven Devils Conference, the O'Neill, PlayPenn, the JAW Playwrights Festival, Bay Area Playwright's Festival, Lark Play Development Center's Playwright's Week and Aurora Theatre's Global Age Project. Dean achieved his MFA at the University of Texas at Austin within the Michener Center for Writers program.
And now…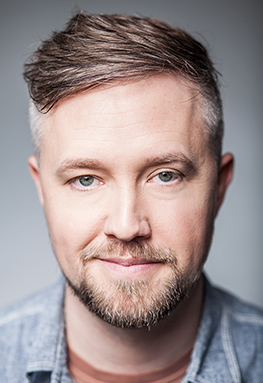 QUALITIES OF STARLIGHT was listed in the Broadway Black List 2016 as one of "the ten best scripts that have come across our submission desk here at Davenport Theatrical over the past year, as curated by my Director of Creative Development, Eric Webb."
Earlier this year, QUALITIES OF STARLIGHT was published through Dramatic Publishing. You can purchase your own copy here! The play went through significant revisions after premiering with Essential, and the version published through Dramatic Publishing is the product of those revisions, so it won't be exactly the same as the show you saw at the 2010 Essential Theatre Festival. Check out the changes by ordering a copy today!
I wish that all plays could come into the world this way–being wholeheartedly embraced and supported at each step and given the privilege of being fully realized in front of an audience. I never would have arrived at this play otherwise.
Congratulations to Gabriel Jason Dean for your great work and recent success!