World premiere opens Friday, July 26, 2019
This passionate and provocative drama spans four centuries as it tells the tales of two remarkable young women: Amanda, struggling for justice and recognition in the offices of modern-day Atlanta, and the amazing true story of Artemesia Gentileschi, a painter in Renaissance Italy who took her rapist to trial. A powerful look at how much some things have changed in 400 years – while others haven't changed at all.
Advisory: There is a sexual assault in the play. There is a scene of intense physical pain.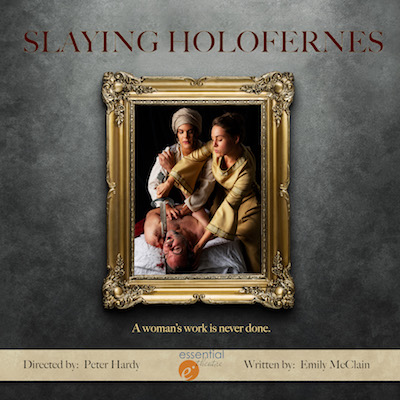 ---
What our Audience is saying…
"A powerful piece of theatre … a feast for your eyes, for your mind, and for your conscience.  The performances here are all of peak quality."
"The performances here are all of peak quality with Sasha Hatfield giving Artemisia a fire and passion that perfectly reflects the art we see her create. Erika Miranda gives Amanda a focused intensity as well as a palpable sense of humor that really REALLY makes us disgusted at how she is treated on the job. As the men, Fred Galyean is perfectly vile as Tasso, visibly jealous at the talent of his student, lustful in his approach to her innocence. His lies are so heartfelt, I often wondered if he believed them himself. As Anthony, Jeff Hathcoat is all smarmy charm, and is even likable, approachable, until he is denied what he thinks is his by virtue of his status and position. Then he becomes full-on creepy cruel, and he makes the transition work. (He is also quite amusing as a foppish paint vendor in Artemisia's trial sequence)."

Atlanta Theatre Buzz
---
Cast:
Sasha Hatfield as Artemesia Gentileschi
Erika Miranda as Amanda
Fred Galyean as Agostino Tassi
Brad Brooks as Orazio and Oscar
Jeff Hathcoat as Anthony and Coppino
Sarah Wallace as Tuzia and Tonya
Tamil Periasamy as Stiatessi and Greg
Joey Davila as Penatelli and Lucas
Dan Reichard as the Judge
Jim Nelson as the Notary
Artistic Team:
Playwright: Emily McClain
Director: Peter Hardy
Assistant Director: Natalie Fox
Dramaturg: Maggie Higgenbothem
Stage Manager: Kyra Cohen
Scenic Designer: Gabrielle S. Stephenson
Lighting Designer: Harley Gould
Lighting Intern: Maliya McCall
Sound Designer: Kacie Willis
Costume Designer: Jane Kroessig
Assistant Costume Designer: Amie Kroessig
Propsmaster: Courtney Loner
Intimacy Coach: Ash Anderson
Fight Choreographer: Kristin Storla
---
Meet the Playwright: Emily McClain
Emily McClain is co-winner of the 2019 Essential Theatre Playwriting Award, along with Ben Thorpe. Emily is the co-director of theatre at Buford High School. She graduated from Berry College with a B.A. in Theatre. Her work has been performed by Out Of Box Theatre, Merely Players, Atlanta AppCo, and the Courtroom Drama Series. She is a member of Working Title Playwrights and Merely Writers. She is particularly passionate about playwriting in schools and spent 9 years working with Georgia Thespians to develop the PlayWorks program for high school theatre students. Slaying Holofernes is her first full-length play.