All readings in the Bare Essential series are free and open to the public. Be sure to stay after for exciting conversation with the director, cast and playwright!
Curated by Founding Artistic Director Peter Hardy
Founding Artistic Director Peter Hardy is overseeing the Bare Essentials reading series and directing four of the six readings himself. Peter is a national award-winning playwright himself, who's had over 30 productions of his work done around the country, and was named Creative Loafing's Critic's Pick for Best Local Playwright in 2010.
2014 Bare Essentials Reading Selections:
TROLLS by Robin L. Burke of Snellville, GA
at 7Stages Black Box, 1105 Euclid Ave
featuring: Sarah Lancaster Cave, Theo Harness, Holly Stevenson, Betty Mitchell, Doug Kaye, Jessica Fern Hunt, William Joel Coady, Lake Roberts, Bob Smith and Libby Mickle
"A family farce involving cheating husbands, alcoholic sisters, a video-game-obsessed teenager and—oh yeah—the neighborhood may have been invaded by trolls."
Click here for an interview with the playwright.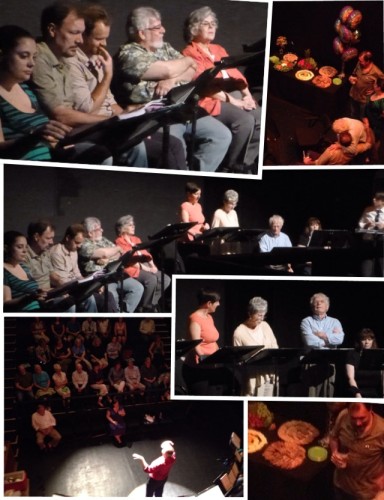 PERFECT FAITH by Frankie Little Hardin of Newnan, GA
at Academy Theatre in Hapeville, 599 North Central Ave
featuring: Kathleen McManus, Doug Kaye, Suehyla El-Attar, Thomas L. Strickland, Matt Nitchie, Davin Grindstaff, Kyle Brumley, Ben Silver, Lake Roberts, James Donadio, Bruce Evers, Brent Glenn, John Ammerman, Aaron Gotlieb, Matt Busch
"A fascinating look at the political and religious struggles surrounding Hypatia of Alexandria, a woman who became one of the most famous teachers and philosophers of the 5th Century A. D."
Click here for an interview with the playwright.
LIMBO NIGHT IN PURGATORY by Tyler Stuart of Savannah, GA
at West End Performing Arts Center, 945 Ralph David Abernathy Rd
featuring: Matt Myers, Christie Vozniak, Bob Smith, Emmett Furrow, Ralph Del Rosario, Michael Strauss, Ashleigh Hoppe
"A very funny, quite silly, extremely irreverent comedy about the after-life."
THE BEAST OF SKITTER CREEK by Brian Forrester of Roswell, GA
at West End Performing Arts Center, 945 Ralph David Abernathy Rd
featuring: Aaron Gotlieb, Emmett Furrow, Christopher Sell, Henry Scott, Lindsay Ross
"A dark supernatural tale about the monster lurking within us."
MISS ADELIA'S GARDEN by Gerry L. Bartholmai of Chamblee, GA
at West End Performing Arts Center, 945 Ralph David Abernathy Rd
featuring: Sylvia Veith, Bobbie Elzey, Michael Howell
"A poignant drama about the friendship between a young gay man and two elderly southern women."
CHRIST AMERICA by Bill Gibson, of Alpharetta, GA
at West End Performing Arts Center, 945 Ralph David Abernathy Rd
featuring: TBD
"A caustic comedy about the corporatization of religion."