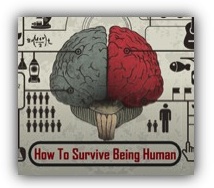 Running 
Nov 13th-15th
and
Nov 20th-22nd at 
The Big House on Ponce
(368 Ponce De Leon Ave NE Atlanta, GA 30308), 
How to Survive Being Human" 
by Lee Nowell is Ex Somnium's latest production. Featuring an entire cast of Essential veterans in addition to the playwright: Blaire Hillman, Jeffrey Zwartjes and Bobby Labartino.
Purchase tickets online at 
 http://htsbh.bpt.me
and use code THEA5OFF to get $5 off
     "Your mind will tell you that you're alone. But separation is an illusion. Ask a scientist. Read a book. We're all made of carbon. We're all made of stars. Listen. You want to know what your life is? Your life is Now. That's all you've ever got. So what do you want to do with it?"  ~Frog
Anna, a woman whose anxiety can create lightning storms and stop time, Frog, a man who is struggling with his sudden transition from frog to human, and God on a beach…with a piña colada.
"How to Survive Being Human," is a play about the 21st century. What does it mean to be in a place of forward movement, but not knowing if it is the right direction; of being afraid of changing one's personal course in life amid the expectations we have grown up with? The play is about you, me, and everyone we know, trying to find our way through this new era of careers, communications, and social-dynamics. Comedic and poignant, sad andexhilarating, beautiful and dangerous, all hosted inside the 1920's residence ofThe Big House, a nearly 100 year old travelers inn and rumored former Masonic initiation house. "How To Survive Being Human" is an operations manual for a world floating on a sea of constant immediate change, with questions of technology, social manners, and individual purpose.
     "We have the ability to create, and we have the ability to destroy. The trick is to choose carefully what you want, and to stick on that path no matter what. Of course, I say this knowing that I blow up transformers and curse at God and wonder why I cause plagues and see death. But maybe from your perspective you can see that I cause my own suffering, and if I could just focus a little bit more, I could cause my own joy as well" ~Anna
FOR MORE INFORMATION,
PLEASE CONTACT TIMOTHY A. HAND AT
[email protected] or visit www.exsomnium.org