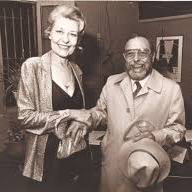 My mother, Martha Nell Hardy, was an actress, educator and producer, with a lifelong passion for the theatre. For twenty years now I've been producing the annual Essential Theatre Festival, and that's one of the ways in which I've tried to honor her memory.
Last year the Martha Nell Hardy Memorial Fund was established by an anonymous donor, with a gift of $10,000, to honor my mother and to provide financial stability and resources to the Essential Festival, a project that she supported and deeply believed in.
If you have a love of theatre and believe in our mission to develop and produce new plays by Georgia writers, I hope you will consider honoring your own mother by making a contribution to the Martha Nell Hardy Memorial Fund. 
Thank you,
Peter