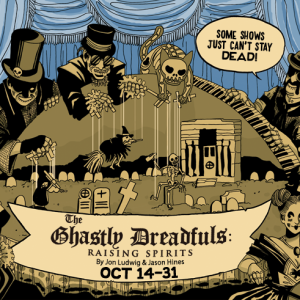 They're back! Some shows just can't stay dead! Your favorite band of specters has returned and is ready to celebrate Halloween with a cavalcade of creepy stories, frightful songs, and devilish dances from around the world and beyond this mortal plane. Featuring new stories and old favorites, this ghostly jamboree is dreadfully fun for the living AND the dead. Winner of the 2013 Suzi Bass Award for Outstanding Ensemble in a Musical. Featuring all your favorite Dreadfuls including Essential's own Spencer Stephens as Darkly Dreadful!

Closing Night Party: Sat, Oct. 31 @ 7pm
with games and costume contest with prizes!
https://youtu.be/y8uWVfHV_rM