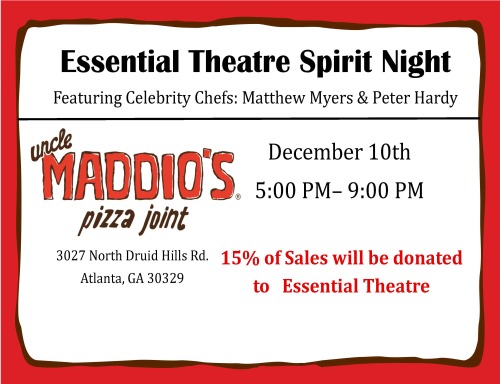 THIS WEDNESDAY, December 10, join "Celebrity Chefs" Peter Hardy and Matthew Myers, along with the rest of the Essential Theatre, at Uncle Maddio's Pizza (Toco Hills) from 5-9pm. Great food, good friends, and all in support of a cause you love!
You can come by just for supper, or you can enjoy any of a number of festive goings-on we have planned:
The first 50 Essential diners will get 2 free vouchers good for any 2014-15 Hawks home game*
Free raffle! Winners drawn hourly, plus one big winner drawn at the end of the night. 150 Hawks vouchers total to give away before the night is done!
"Why Essential is essential" video booth: Do you love Essential? Do you like being on camera? Stop by our video booth and let us know why Essen

tial is essential to you.

THINGS TO KNOW BEFORE YOU GO:
>Where will we be?
Toco Hills Uncle Maddios,
3027 N Druid Hills Rd NE, Atlanta, GA
>What time?
Uncle Maddios is open all day, but Essential will be there from 5-9pm.
Sales outside of that timeframe OR not identified as for the Essential Theatre will still give you tasty pizza but will not result in donations to Essential.
>What to say to the cashier:
"I'm here to support Essential Theatre"
That's it! That's all you have to do! You'll need dinner that night anyway, and who doesn't love pizza? So treat yourself, see some friends while you're there, and know in your heart that you're really doing a good deed and supporting a cause you love — by eating pizza. What could be better?
We'll see you Wednesday!
*subject to ticket availability at time of voucher redemption