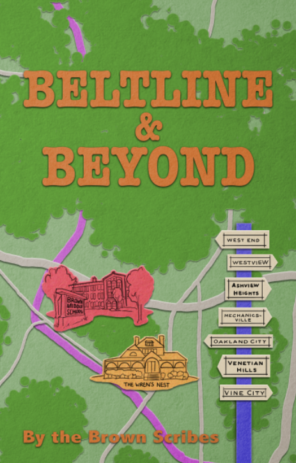 The Essential Theatre will be holding auditions this weekend for our FIRST EVER Art on the Atlanta BeltLine production, BeltLine and Beyond, happening September 23 at Gordon White Park in West End.
BeltLine and Beyond, written by the Wren's Nest Brown Middle School Scribes, adapted for the stage and performed by Essential Theatre, is a professional production showcasing works written by the eighth graders at Brown Middle School as part of the Wren's Nest Scribes program Fall, 2016.
Auditions are on Saturday, August 26 from 1-5pm at the West End Performing Arts Center, located at 945 Ralph David Abernathy Blvd in West End, and callbacks will take place the following week.
The performance is at 4pm on Saturday, September 23 at Gordon White Park in West End. Rehearsals will begin after Labor Day weekend. Headshot and resume requested but not required. Hard copy or email OK. Be prepared with one monologue not more than two minutes in length and one skill to demonstrate.
To make an appointment email [email protected].
Cast:
Protagonist, an 8th grade girl who is also a spy
One female and two male 8th graders who play various characters
Man, Woman (any age) who play various grown-ups
African American actors and Westside communities members particularly sought after. We hope to cast age-appropriate actors for the teenage roles, but will consider older performers.
Stipends offered for all roles.