DISPOSSESSED is a romantic comic-fantasy, set in 1928 New York City, about a Yiddish theater company that is rehearsing the classic play "The Dybbuk" (in which a bride is possessed by the ghostly spirit of her dead true love on the day she is supposed to marry another man).  The actress playing the leading role is being pressured by her parents to marry the handsome leading man who wants to take over the company, but she wants to make her own choice.  With all the stress she is under, she begins to see the living embodiment of the character she's been playing (the bride) and, together, they try to find the way to the path her heart wants to follow.
CAST:Amelia Fischer,Jake Krakovsky, Kathleen McManus, Scott Rousseau, Alyssa Caputo, Chris Schulz, Christie Vozniak, Marc Gowan and Tyler Hayes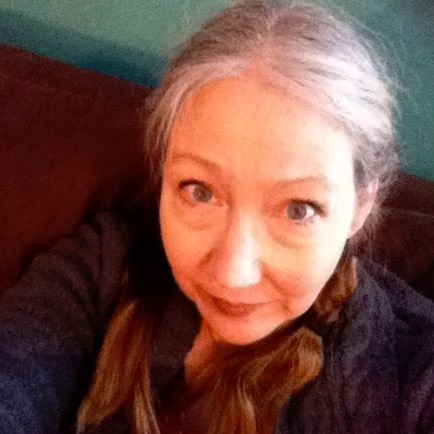 Karen Wurl is a playwright, dramaturg, director, teacher, and semi-retired slam poet.  She's spent half her life in Chicago, half her life in Atlanta, and the extra bits in Michigan, Wisconsin and Texas.  Plays include Transference, Kim's Theory about the Struggle Between Good and Evil, Only Children, The Play about Frank, Death or Serious Injury Can Occur, The Secret Life of the Proletariat, Miss Macbeth, Vampires, Now and at the Hour Of, Daughter of Fate: The True Story of a Caterer, and In Which I Lose My Virginity to My Best Friend's Older Brother.  She is currently working on her dissertation, which includes a play titled Underworld, in which a woman deals with the death of her father and the disappearance of her daughter, as well as Dispossessed, a feminist, comic take on S. Ansky's seminalThe Dybbuk, or Between Two Worlds.  She is also looking for work as a teacher of English and/or Theatre.  Hire her, or recommend her to those who can hire her.  She will live anywhere (as long as her cats are allowed there, because you don't rescue someone to just dump them when it gets inconvenient).
IN THE PRESS:
AUDIENCE RESPONSE:
"Directed by Peter Hardy, the cast of nine players pull off a very engaging performance.This fine script is the Essential Playwriting Award co-winner for this year,and one that every member of the cast and crew can be proud of. Bottom line is this one is a winner in manyways." – – Bob Heller, Atlanta Art Scene
"Congratulations to Peter Hardy and the cast/crew of DISPOSSESSED at Essential Theater!!! I saw the previewtonight, and it was delightful. Go see it!!!"
– Rivka Levin
"Perfect casting and direction of an interesting feminist romantic comedy that takes place at a NYC Yiddish Theatre in 1928! Amelia Fischer is especially wonderful as Rivka.Please make a special effort to go out and see this production!"
– Yolanda Asher
"charming, smartly structured and imaginative. …While the play takes place in 1928, it portrays a need for self-empowerment that is just as relevant today."
– HankKimmel
"I mean,who doesn't love a love story, a play within a Yiddish play, and an exorcism?!"
– Nancy LoweryPowell
"I thoroughly enjoyed the show and encourage everyone to see this. I didn't know how the story would play out but thought the resolution was excellent and perfectly in keeping with the main character."
– MattLupo
"Just came back fromseeing DISPOSSESSED, which opened last night at the Essential Theatre. Great script by Karen Wurl and some wonderful performances. If you're in Atlanta, try to catch it!"
– Doug Kaye
Dispossessed performs on the following dates:
Thursday July 28, 8pm (preview)
Friday July 29, 8pm (opening)
Saturday July 30, 8pm (Neighborhood Night!)
Saturday August 6, 8pm
Sunday August 7, 2pm
Thursday August 11, 8pm
Friday August 12, 8pm
Sunday August 14, 7pm
Tuesday August 16, 8pm (Industry Night)
Saturday August 20, 8pm
Sunday August 21, 2pm
Tuesday August 23, 8pm (Industry Night)
Friday August 26, 8pm
Sunday August 28, 2pm