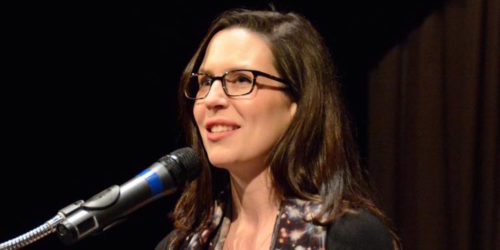 Join Essential Theatre, the Atlanta Region Dramatist's Guild and the Atlanta-Fulton County Public Library System – Central Library on May 5 from 4-6pm for a Dramatist's Guild "Conversations With" featuring playwright, screenwriter, and short story author Lauren Gunderson in an open discussion of her approach to writing, career strategy, and current projects. The event will be led by the Guild's Atlanta Regional Rep Pamela Turner and will include time for audience questions and a short meet-and-greet.
Originally from Atlanta, Gunderson was the first recipient (2001) of the Essential Theatre Playwriting Award, and in 2016 she was honored with the Dramatists Guild's prestigious Lanford Wilson Award. In between that time, she has been identified by American Theatre Magazine as the most-produced living playwright in 2016, and has won other awards ranging from the Steinberg/ATCA New Play Award, Aurora Theatre's Global Age Award, and Eric Bentley New Play Award. Currently she is in Atlanta with a workshop production of her new bluegrass musical The Heath on May 4-5 at Synchronicity Theatre. In July Lauren's play Ada and the Memory Engine will be produced as part of the 2017 Essential Theatre Play Festival.
Tickets are free and going fast. 
RSVP to secure your spot now!